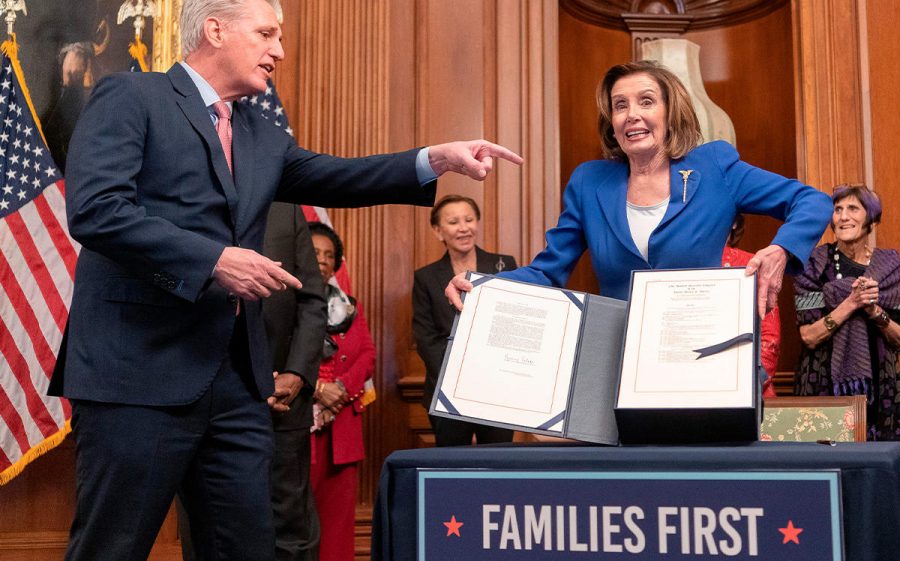 ALEX EDELMAN/AFP via Getty Images
As many existing federal aid programs are due to expire or have already, the American people have expressed a need for a relief package to combat the troubles the pandemic caused. Luckily, a new stimulus check might be on its way to the public soon. Last week, President Trump signed off on a $900 billion stimulus bill that aims to meet a variety of needs caused by the ongoing pandemic.
The bill was approved by Congress and comes after months of political squabbles between government officials. The bill comes with individual payments and rental protections, which have been at the forefront of the negotiations. These month-long negotiations went on as a multitude of federal aid programs expired, such as the Family First Act, which "requires certain employers to provide employees with paid sick leave or expanded family and medical leave for specified reasons related to COVID-19," according to the government's website. These programs were vital to many Americans who were struggling through the pandemic. Luckily, the bill covers a wide array of areas negatively affected by the pandemic and includes an extension of some parts of the CARES Act, which was the $2.2 trillion stimulus check passed in March.
By expanding an already existing program, the new bill aims to reduce the high food insecurity crisis in America. The bill is increasing monthly food stamp benefits by 15 percent for six months through the Supplemental Nutrition Assistance Program, SNAP.
Since unemployment rates are still high and small businesses are struggling, there has been a demand for the new bill to include unemployment benefits as well as aid for small businesses. The bill is to extend existing programs to help the unemployed and will offer $120 billion in additional unemployment benefits, according to CNBC. As for small businesses, the bill reintroduces a program from the previous relief package. This renewed program, the Paycheck Protection Program, provides $285 billion for additional loans to small businesses. This will aid small businesses who have fallen victim to the financial burdens caused by the pandemic.
The bill also provides close to $70 billion for an array of public health measures, such as providing funding for COVID-19 vaccines. The bill is to give "$20 billion for the purchase of vaccines, $8 billion for vaccine distribution and an additional $20 billion to help states continue their test-and-trace programs," according to the Washington Post.
Nursing homes may soon receive much needed funding, where the H.U.D program, U.S. Department of Housing and Urban Development, is allowed to provide emergency financial aid to nursing homes in need of financial help due to the pandemic. Beth Martino, senior vice president of public affairs for the American Health Care Association, said that the association "has advocated for this proposal so our providers can continue to focus on keeping residents and staff as safe as possible during the pandemic," since nursing homes "are facing the worst financial crisis in the history of the industry."
The bill also has a focus on children, with funding for education and $10 billion for the child care industry. According to the Washington Post, "The bill provides $82 billion for education, including about $54 billion for K-12 schools and $23 billion for colleges and universities."
Ted Mitchell, president of the American Council on Education, said in a statement that the "compromise on further COVID-19 relief" is "wholly inadequate to meet the needs of students and college and universities." Mitchell backed his claim by stating that "The money provided in this bill will provide some limited relief, which is welcome news to struggling students and institutions. But it is not going to be nearly enough in the long run or even the medium term."