Weekly Science News: New Bizarre Glowing Anglerfish Recently Discovered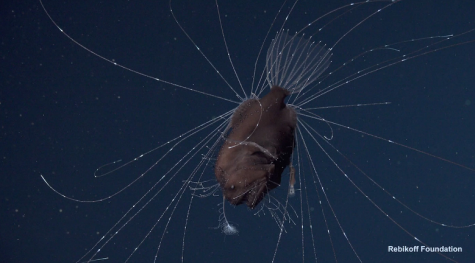 Out of the 160 known Anglerfish species, a new, bizzare, glowing Anglerfish species was discovered 2,600 feet underwater. The German researchers that discovered the fish, Kirsten and Joachim Jakobsen, have said that no one has ever encountered this species alive until now.
The fish is categorized as Caulophryne Jordani has long bioluminescent lures protruding from all sides of it's body to trick prey into coming closer into its mouth, so they can feast on a meal.
Another characteristic of this creature are that the males latch onto the female's belly for life. The females are 60 times the size of the male, and the male's main purpose in life to fuse their circulatory systems and tissues to connect with the female, and supply her with sperm for Anglerfish offspring. In turn, the female supplies the male with an endless supply of nutrients.
We are reaching deeper into the ocean each and every day, and are still discovering new life forms and species of fish, and it's important to acknowledge these researcher's work and discoveries so there can be more funding to discover unlearned secrets of the sea.