Trump Acquitted In Impeachment Trial Again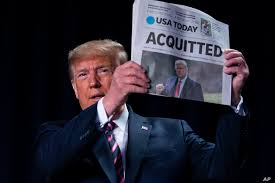 Last Saturday, the Senate voted 57-43 on the charge of inciting insurrection for his role in the Jan 6th riot where the Capitol was infiltrated. Even though the majority of senators voted to convict Trump, they failed to reach the majority threshold needed to convict the former president.
Seven GOP Senators voted guilty in the most bipartisan majority in support of an impeachment conviction in US history. Democrats needed 17 Republicans to join them to convict Trump and hold a separate vote to stop him from running for office in the future.
After 5 intense days of trial and House Democrats trying to prove Trump's incitement, the acquittal comes as a surprise to many. The vote came after House impeachment managers reversed course and stopped a call for witness that would have delayed the verdict. Senators voted to hear from witnesses. However, after a roughly one hour recess, the Senate determined no witnesses would be called, and opted instead to admit into evidence written testimony from Rep. Jaime Herrera Beutler. The Republicans senators who voted against the former President are: Richard Burr of North Carolina, Bill Cassidy of Louisiana, Susan Collins of Maine, Lisa Murkowski of Alaska, Mitt Romney of Utah, Ben Sasse of Nebraska and Pat Toomey of Pennsylvania.
"This has been yet another phase of the greatest witch hunt in the history of our Country. No president has ever gone through anything like it, and it continues because our opponents cannot forget the almost 75 million people, the highest number ever for a sitting president, who voted for us just a few short months ago," Trump said in a statement.