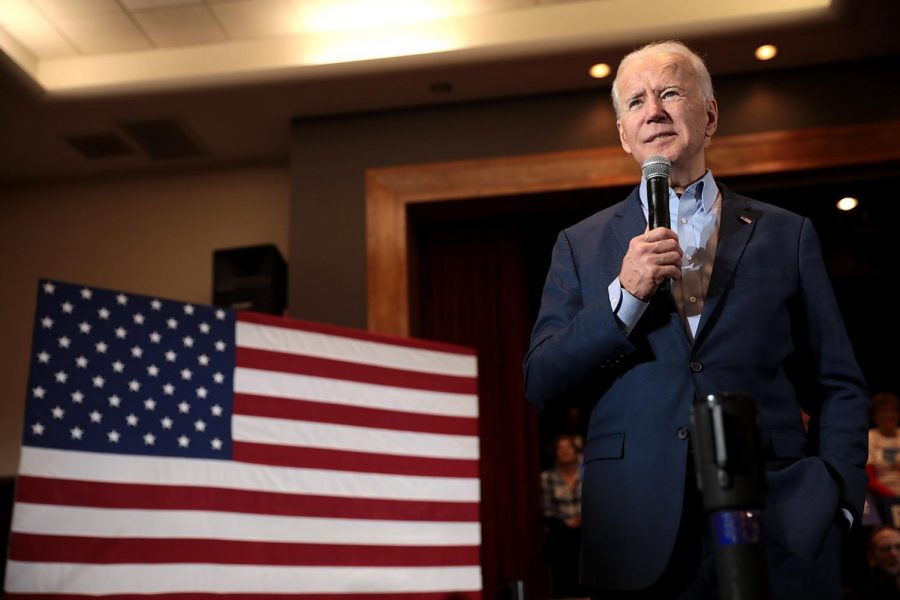 Gage Skidmore
Over the weekend, the House of Representatives passed President Joe Biden's $1.9 trillion COVID-19 relief bill that includes $1,400 checks, vaccine funding, aid to small businesses, funding to state and local governments, funding for schools, and more. This relief is essential in America's fight against COVID-19. Although the bill was ultimately passed, it did so with no Republican support.
On Saturday morning, President Biden stated that through this bill, "we can finally get ahead of this virus. We can finally get our economy moving again, and the people of this country have suffered far too much for too long," adding that "we need to relieve that suffering."
Speaker Pelosi had the same sentiment at a news conference on Friday, where she stated that "the sooner we pass the bill and it is signed, the sooner we can make the progress that this legislation is all about — saving the lives and the livelihood of the American people."
On Saturday, the House of Representatives approved the bill with a vote tally of 219-212. Although Biden hoped to achieve bi-partisan support for this bill, no Republicans voted in favor of it. This partisan vote wasn't entirely unexpected though, as House Republicans had urged their members to vote against Biden's bill.
Senate Minority Leader Mitch McConnell, a Kentucky Republican, was unhappy with the ordeal, claiming that the Democrats "jammed through a bill that even liberal economists and editorial boards say is not well targeted to this stage of the fight."
Biden is a continuous advocate for unity; his presidential campaign was heavily based on the need for unity in our polarized nation. Although Republican's unanimously voted against the bill, Biden had tried to compromise with a bipartisan outreach. Biden attempted to compromise with ten Republicans and win their support for the bill through a meeting at the White House in early February. Yet this meeting resulted in no bi-partisan compromise, with Biden remarking "what would they have me cut?" in regards to the Republican's claim that the bill is too expensive.
"Should we not invest 20 billion dollars to vaccinate the nation?" Biden asked during a visit to a Pfizer plant in Kalamazoo, Mich. "Should we not invest 50 billion dollars to help small businesses stay open when tens of thousands have had to close permanently?"
The bill won the favor of all but two Democrats, with Kurt Schrader of Oregon and Jared Golden of Maine voting against it. Golden expressed his dissatisfaction with the bill, stating that he "won't support trillions more in funding that is poorly targeted or in many cases not necessary at this moment in time," adding that, ""this bill addresses urgent needs, and then buries them under a mountain of unnecessary or untimely spending."
As unemployment rates remain high some Republicans believe that the only way to rebuild America's economy is to simply reopen it. House Minority Leader Kevin McCarthy of California believes that Biden's bill "isn't a relief bill" and "it takes care of Democrats' political allies while it fails to deliver for American families." His plan is to instead reopen the economy, stating that, "we already know what is the best stimulus plan out there: It is to fully reopen our economy. To do that, we need our economy to go back to work, back to school and back to health."
Democrats are hesitant to reopen America, seeing how COVID-19 cases remain high in the nation and new COVID-19 variants are emerging across the world. Instead of reopening the economy, Democrats wish to financially assist Americans through relief packages, boost vaccine development and production, and help the healthcare system.
The next step for this bill is to go to the Senate. If the bill makes it past Senate, it will then go to Biden, who will sign it into law. Democrats want to get the bill signed into law by March 14th, a mere 12 days away. This date is when existing $300 weekly emergency federal unemployment benefits are going to expire. Pelosi stated that March 14th is the last day it should be passed, adding that she "would like it well before that."