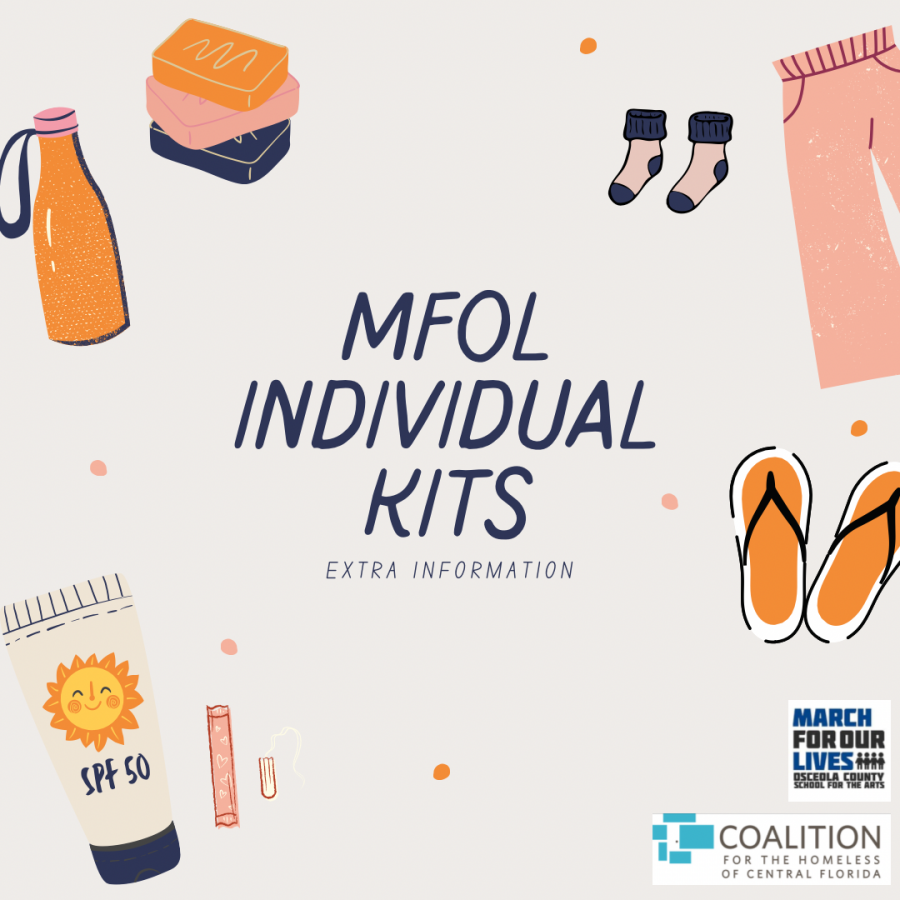 March for Our Lives (MFOL) OCSA is currently asking for donations for their ongoing mutual aid project. This project aims to help the homeless through individual kits filled with food items and necessities. MFOL OCSA is asking students to donate clothing, hygiene products, food, and miscellaneous items to help the homeless. Students are encouraged to take advantage of this opportunity to give back to the community, receive volunteer hours, and get an entry into a MFOL raffle!
MFOL OCSA President, Valeria Perez, urges students to donate while stressing the importance of helping those in need. Perez states that, "As we reflect on how difficult 2020 has been for everyone, it's important that we acknowledge how hard it is for certain communities to obtain the resources they need to stay safe. That's why we're asking students to donate to the homeless community of Central Florida. If everyone at OCSA were to donate at least 1 item from the list, that's over 1,000 people in need we can help out. No donation is too small. Before the school year ends, and the summer heat rolls in, we just want to make sure we can contribute our help to those who can't access resources as easily to stay safe."
Donations can be dropped off at the front office from April 28th- May 14th. When dropping off donations, make sure to attach your name, grade level, and student ID number to the items to ensure that you get volunteer hours and an entry into the raffle. For every 5 items a student donates, they receive 1 volunteer hour and recover 1 entry into the raffle.
Students can donate any items in the following areas: clothing, hygiene, snacks, and extra items. Specific examples of clothing items are: a cinch bag, T-shirt, sports bra, sweatpants, underwear, socks, flip flops, beanie, and gloves. Specific examples of hygiene items are: travel sized shampoo, conditioner, lotion, soap bar, washcloth, toothbrush, toothpaste, and feminine products. Examples of snacks are: a juice box, trail mix, raisins, saltine crackers, goldfish, fruit snacks, water, mini tangerines, granola bar, fruit cup with a spoon, and any other non-perishable food items. Examples of extraneous items are: bug repellent, sunscreen, poncho, reusable cup or water bottle, childcare items, diapers, masks, hand sanitizer, Ziploc bags, and blankets.
MFOL OCSA is partnering with the Coalition for the Homeless of Central Florida for this mutual aid project.