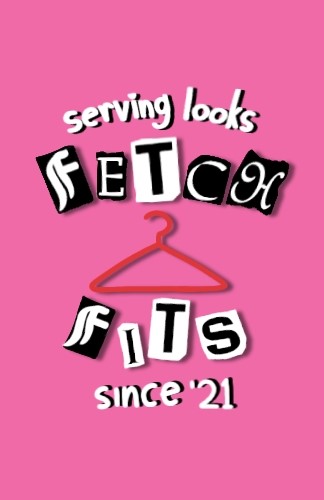 The perfect pair of jeans, a sweater vest, a leather jacket. What do these items have in common? They're all so fetch.
If you understood zero percent of that, then you're legally required to keep reading. That is, if you don't want to be arrested by the fashion police.
Sure, but what is fetch, anyway? "Fetch" comes from "fetching." Also known as appealing, or lovely, or so cute. If Gretchen Wiener from the legendary 2004 film Mean Girls couldn't make fetch happen, we will. But what about "fits?' "Fits" is "outfits" in a cute little compact form. It's a common term in the vocabulary of style-conscious teens today. Put the two together, the old and the new, and what do you get? "Fetch Fits!" The only fashion column an art student could ever need!
"Fetch Fits" builds a bridge between the runways and hallways. From Met Gala garb to theater threads to the day-to day wear of the typical OCSA pupil; every style that matters to students has a place in this column's heart. The abstract, the colorful, the "scary-" if you've been called any of these things, you can have a seat with us. Whether you hoard Hot Topic hoodies or you're an American Eagle enthusiast, we see you, and we think you're totally fetch.
Besides Mean Girls, the 2000's gave birth to tons of trends. Recently, we've been seeing a huge comeback of Y2K trends."Y2k is back, and it's grittier and more colorful than ever," says Nicola Brognano. Brognano is a designer for Blumarine, part of an Italian fashion house that's paving the way for modern Y2K inspired threads. But beyond the blinged-out belts, low rise jeans, and furry trims we're seeing all over social media, what else were teens of the time wearing?
Let's take a look at another popular look from the time, and they way that today's teens have made it their own. It's classy, it's sassy, it's- what else rhymes with those two words? Anyways, today's feature is all about prep!
The "preppy" style takes inspiration from private preparatory schools meant to help wealthy students attend Ivy League Schools- think Harvard or Columbia. The style focuses on a professional and put-together images. In the 2000s, a few pieces popular among preppy teens were sweaters, collared shirts, plated skirts, plaid shorts, and loafers or boat shoes. Common colors include neutrals and colors like green, blue, and the occasional pink. Classical patterns like argyle and tartan are also an absolute must.
Today's idea of prep has been mixed with other modern academia-inspired styles, such as dark academia (a historical subculture that focuses on dark colors and higher education) and the schoolgirl look in a general sense. While modern fashion-forward teens have retained most aspects and pieces of the preppy style, there have been a few tweaks.
They still view collared shirts under sweaters a classic. If you've ever looked at trendy outfits on Pinterest, they're practically unescapable. The pleated skirts, headbands, and white sneakers also continue to be revered as staple pieces. Finally, university sweaters (bought or…"borrowed" from parents) prevail as the go-to chilly weather companion.
One major change made to the style is the swapping of skinny jeans or jeggings for straight-leg denim and trousers. Mary Janes and the occasional pair of Doc Martens have also replaced boat shoes in the world of preppy fashion. Bonus points if they're platforms, which have almost replaced heels in teenage closets as the heightening shoe of choice.
While there have been a few tweaks to the preppy style, it has held up quite well. The "wealthy student" seems to be here to stay as a favorite among class presidents and fashionistas alike.
Stay tuned for future articles from "Fetch Fits!"