U.S. Emissions on the Rise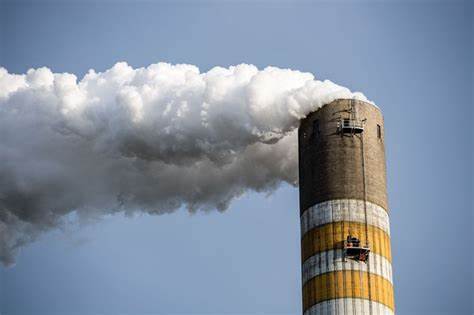 During the United Nations Climate Change Conference in November 2021, also known as COP26, President Biden pledged to cut the nation's emissions in half by 2030. An ambitious goal, however, it is one that seems to be drawing farther and farther away.
"We're going to cut U.S. greenhouse gas emissions by well over a gigaton by 2030, while making it more affordable for consumers to save on their own energy bills with tax credits for things like installing solar panels, weatherizing their homes, lowering energy prices," President Biden told world leaders at the COP26.
President Biden's Build Back Better Bill contains a historic $555 billion package of tax credits, grants, and other policies aimed at reducing emissions and boosting clean energy. But Senator Joe Manchin III (D) said in late December that he could not support the legislation, possibly dooming its chances in the Senate.
John Podesta, who served as a counselor to President Obama and chief of staff to President Bill Clinton, said that without Build Back Better, it will be impossible to meet Biden's goal of halving U.S. emissions by 2030. "I've been a proponent of executive action, particularly in the face of Republican opposition, going back to Clinton. And I certainly would urge them to use every tool they have. But without these investments, you just can't get the job done," said Podesta, who is also the founder of the Center for American Progress and a contributing columnist for The Washington Post.
An analysis from the Rhodium Group, an independent research firm, found that U.S. emissions rose 6.2 percent last year compared to 2020, although they remained below pre-pandemic levels. One main reason was a 17 percent jump in the burning of coal, the dirtiest fossil fuel, marking the first annual increase in the nation's coal generation since 2014. The analysis also found that the biggest increase in emissions in 2021 came from the transportation sector, which looms as the country's largest source of greenhouse gases, accounting for 31 percent of all carbon pollution.
The arrival of coronavirus vaccines and the nation's fitful efforts to emerge from the pandemic meant more Americans traveled on roads and in the skies than in 2020. But road freight was the only mode of transportation that rebounded to pre-pandemic levels, as thousands of diesel-powered trucks rumbled along the nation's highways to deliver consumer goods.
"In an ideal world, we want the economy to rebound, but not the emissions," Kate Larsen, a co-author of the analysis who leads Rhodium's international energy and climate research, said in an interview.
North Carolina Gov. Roy Cooper, a Democrat, signed an executive order on Friday setting a statewide goal of reducing greenhouse gas emissions 50 percent compared to 2005 levels, reaching net-zero emissions by 2050 and registering 1.25 million electric vehicles by the end of the decade, the Associated Press reports. The order also directs state agencies to consider environmental justice when making decisions on climate change.
The analysis demonstrates that the United States is not emerging from the coronavirus pandemic with a cleaner and greener economy, making it even harder for Biden to deliver on his promise.