Sharks are Back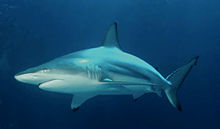 Hang on for a minute...we're trying to find some more stories you might like.
Sharks are migrating south towards Florida in search of warmer temperatures. Here's what it means for your spring break
According to a research team at Florida Atlantic University, more black tip sharks are migrating down to Florida in search of warmer waters a little earlier than normal. Normally the sharks would migrate down about mid-late March, but this year the research team is noticing about 15,000 sharks on any given day, a significant increase from the previous years where the number of sharks migrating was diminishing.
While they are using new technology to see why this might be the case, Dr. Kajiura, the leader of the team says not to worry because "it's indicative of a healthy ecosystem." according to big water adventures the sharks are,  "curious and generally timid." They also mention that the sharks will not attack humans on a consecutive basis meaning as long as we respect them they shouldn't interfere with out spring vacation.