Updates on OCSA's Arts Week and What it Means to Those Participating
Hang on for a minute...we're trying to find some more stories you might like.
Arts Week is starting to come to an end and many OCSA students were able to enjoy the simple appreciation of, not only our talented artists, but the activities that took place. According to Mrs.Calderon, OCSA's own art teacher, "Arts Week began at least seven years ago as as way for the National Arts Honor Society to educate the community about the arts. It began with having the student body who is not used to entering the art room; at least we brought the art room to the outside." I sat down with some of the art majors and non-art majors who participated in the event to tell me what Arts Week means to them:
Sarah Vu: Junior, Visual Artist, Specializes in Painting
What is the purpose of Arts Week?

The purpose of Arts Week, in my opinion, is just to bring out what we do in the art room out here so everyone can see what we do in the art room. And like they can engage and participate in all the things we do.
What does Arts Week mean to you?

Arts Week is a way for me to get out of my comfort zone of being shut in inside the art room and come out here to try to talk to people, or try to get them like "Hey, this is art. We all do it. So, you should do it too."
What is your favorite part about Arts Week and why?

Recently we've been doing workshops and I really to like participate in these workshops, because we get to teach other people from other majors, or even our major, about things they don't know like origami, or knitting, and jewelry. All that kind of stuff. It already passed, but my workshop is the textile workshop and I'm starting a club for that, so you should join.
Kevin Gracia: Junior, Orchestra
What are your feelings towards Arts Week?

I think its great. I feel great about it. It's very nice, because I love and support my local artists. They're very cool. Also, it's a very interesting, enticing thing to see as you watch another artist just do their thing and doing it publicly, instead of being locked in the art room.
 Why did you choose to participate in Arts Week?

To just support the local artists.
What is your favorite part of Arts Week and why?

I like when they do the chalk drawings on the floor, I like those a lot. It's just one of those things, you know? I enjoy watching them work on it. I enjoy watching the finished product.
Now that Arts Week is coming to the end of its artistic glory, I feel it is safe to say that students, faculty, and staff will be eagerly waiting for it to arrive next year to celebrate once more.
*If you are interested in joining Textile Club, they teach knitting, embroidery, crocheting, and sewing. Meetings are in the art room every teal Monday, second half. Everyone is welcomed. First meeting is after Spring Break.*
About the Writer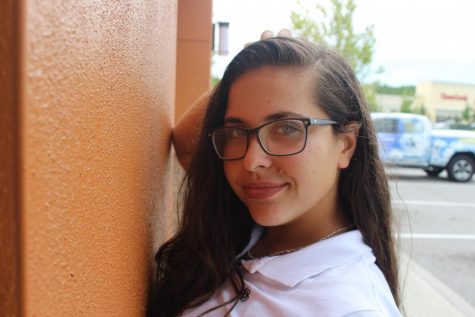 Jasmeen Rivera, Reporter
Jasmeen Rivera is a junior at the Osceola County School for the Arts. As a journalist, her one goal is to report the truth and to use her strength as a...