Americans Focus their Efforts on the Fight to Stop the Coronavirus
As the COVID-19 outbreak continues, medical workers worldwide are working around the clock to treat patients with the virus. During this pandemic, medical workers, delivery drivers, and EMT's have been on our front line of defense in helping stop the spread of the virus.  
Medical practices and hospitals have cancelled all non-essential appointments and are only treating emergencies. Still, many states are turning parks and parking lots into emergency coronavirus treatment centers as many hospitals are overflowing with patients in need of care. With over 217,263 cases of coronavirus in the United States as of 11:10 am on Thursday April, 2nd, hospitals have been running out of medical supplies and protective equipment for their staff to wear while treating patients. One substitute hospitals have turned to is using garbage bags as gowns for medical staff to wear. Without the proper equipment, many healthcare workers have been exposed to and thusly contracted the  very virus they are at war with. Others have been exposed and are living in hotels and rentals instead of their homes in order to keep from infecting their families. Healthcare workers are urging people all around the world to "take it seriously." 
These past few weeks have put an enormous amount of stress and tension on medical workers globally. "It's a war without bullets," said Dr. Joaquin Morante, an ICU doctor at Jacobi Medical Center in the Bronx, New York. "Being covered in COVID — it's walking into the hospital and feeling like every part of the hospital is a dirty zone," Morante stated. 
In addition to the efforts of medical professionals and first responders, celebrities and private companies have undertaken efforts to help. Dolly Parton recently donated $1 million dollars to Vanderbilt University after they made some advancements in finding a cure for the virus. Uber announced they will be offering 10 million free rides during this pandemic to medical professionals, senior citizens, and food delivery services. Ford Motor Company is converting their factories to manufacture much needed medical supplies such as ventilators, respirators, and masks.

It is important to know that as this virus spreads, millions of people around the world are being affected. It has not been determined how long until this pandemic ends and it is crucial to follow governmental self-isolation orders. If you have any unused medical supplies such as gloves, masks, and clean wipes, many hospitals are taking donations.
About the Writer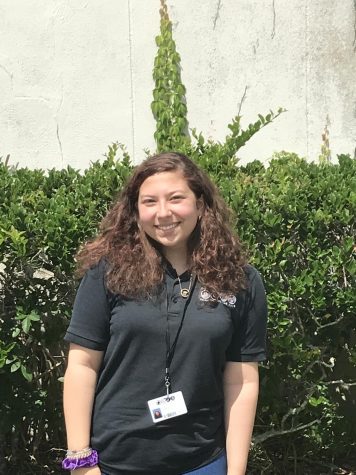 Alexis Incandela, Associate Editor
Alexis Incandela is the Associate Editor of The OCSA Ledger, whose goal is to serve the community through her writing. She hopes to have an impact on her...