UK's Prime Minister Boris Johnson Sent to ICU due to Covid-19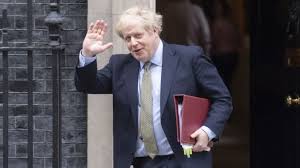 On Monday, UK Prime Minister(PM) Boris Johnson was moved to the ICU at St. Thomas' Hospital in London due to complications related to the novel Corona Virus.
According to NBC News, Johnson went to the hospital on Sunday after being advised to do so by his doctors. At the time of his arrival, his office insisted that this was just a precautionary measure since Johnson, after ten days of being sick with COVID-19, was still suffering from high temperatures and a cough. While the news coming from the hospital was limited, Johnson assured everyone that he was okay, and tweeted out early Monday afternoon, "I'm in good spirits and keeping in touch with my team, as we work together to fight this virus and keep everyone safe."
However, later that afternoon, Number 10 Downing Street, announced that Johnson had been given oxygen and taken to the ICU because his condition had worsened. They also said that while he had not yet been put on a ventilator and will continue to perform many of his duties remotely, he has asked Dominic Raab, the Foreign Secretary, to, "deputize for him wherever necessary." This news came after many reports that the PM was getting better and was to leave quarantine as early as even last Friday. With that no longer being the case, the stock market continues to crash, and the British Pound has fallen to the lowest it's been in the past 4 decades against the dollar, leaving many Brits confused and worried about the future of their well-being and country.
In a statement from the White House coronavirus briefing on the same day, President Trump said that he was very sad to hear about the conditions of the UK's Prime Minister. He said that Johnson was a "dear friend" and that he had spoken to many different companies currently working on a cure for the virus and asked them to contact the PM to see if they could help with anything. 10 Downing Street thanked President Trump for his attempt to help but said that they will not be partaking in any experimental treatment at this time, given that all of these companies were either just beginning their trials or very early in the process.
From the moment of his diagnosis, Johnson's primary focus was making sure that the public knew that he was on top of things and ready to do whatever it took to help others. Even the Friday before Johnson was taken to the ICU he had published a video of him in his apartment praising self-isolation and how important it is to continue to minimize the risks of spreading the disease by keeping the country in quarantine.
Queen Elizabeth II also gave a televised address prior to the news, where according to the New York Times she called the nation to "face the pandemic with the stoicism and self-discipline they showed during World War II." While addresses like these are rare from her, it came at a much needed time to relax the public and enlightened the hearts of many British citizens.
While lately the British Government has been strict about putting in place safety regulations and restrictions to avoid the spread of the virus, their original reaction to it was very different, leaving many to wonder if many of the current effects on the country could've been avoided had their representatives taken the virus more seriously. Although Johnson's most recent goal has been to help his nation feel better and protect them from the virus, his current condition leaves them with worries and doubts about their safety. This is still a developing story and we will continue to update as more news about his condition is released.