Ahmaud Arbery: The Killing of an Unarmed Black Jogger Sparks Outrage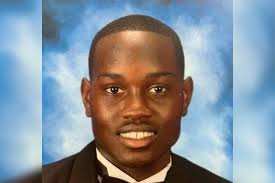 The case of a black man in Georgia who was fatally shot in February after being pursued by two armed white men is gaining widespread attention among citizens, after a graphic video of the incident was released this week.
Ahmaud Arbery, 25, was shot and killed in the Satilla Shores neighborhood on February 23, 2020, following an altercation with a white father and son. 64-year-old Gregory McMichael spotted Arbery jogging and called 911 to report a "black man running down the street" and said he suspected the man was involved in recent burglaries. McMichael called his son, Travis. The pair armed themselves because they didn't know if the male was armed or not", and then tracked Arbery down on the road.
The report stated that McMichael shouted: "Stop, stop we want to talk to you." They pulled up next to him and police said the former investigator's son "exited the truck with a shotgun." McMichael told police Arbery then "violently attacked his son" and the two men started fighting over the shotgun. Two shots were fired. Arbery staggers away and collapses. The man in the truck's bed is seen holding a handgun after he climbs out to approach the others.
The Georgia Bureau of Investigation announced late on Thursday that both men had been taken into custody. The bureau said the father and son followed Mr Arbery and confronted him with two firearms, and the younger McMichael shot and killed him. The attorney also claimed Gregory McMichael was not initially charged because he had worked as a police officer and a detective for the local district attorney for more than 30 years.
The incident has caused anger across America and especially among black Americans and campaigners for social justice while reigniting a long-running debate over the killings of young black men by white people.
Stacey Abrams, a former Georgia state lawmaker and potential Biden running mate, hailed the arrest as an "important first step, but the first of many."
"We must not look away," she tweeted.
"Justice must be blind. Bring #Ahmaud Arbery's killers to justice," Rep. Eric Swalwell, D-Calif., tweeted.
Several politicians have also voiced a call for justice. Senator Bernie Sanders and Elizabeth Warren shared their thoughts on Twitter, calling for justice for Arbery's murder.
Former Vice President Joe Bieden stated in a tweet, "The video is clear: Ahmaud Arbery was killed in cold blood. My heart goes out to his family, who deserve justice and deserve it now. It is time for a swift, full, and transparent investigation into his murder."
"This family and the country deserves justice and they deserve it now. They deserve a transparent investigation of this brutal murder. But our nation deserves it as well. We need to reckon with this, this goes on. These vicious acts call to mind the darkest chapters of our history," Mr Biden said.