Obamas to Give Virtual Commencement Speech for Class of 2020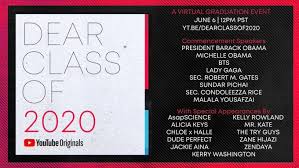 Many high school and college seniors across the nation have been disappointed for a while now after finding out their proms and graduation ceremonies have been cancelled due to the coronavirus pandemic. However, in a bit of good news, former president and first lady, Barack and Michelle Obama will be giving commencement speeches for the class of 2020.
Los Angeles High School senior Lincoln Debenham took to Twitter last month asking former President Barack Obama to give a national commencement address to graduates across the country. His post, which received a quarter-million likes, went viral and a few weeks later, the Obamas responded.
The Obamas will participate in a YouTube special on June 6, 2020, called Dear Class of 2020, a virtual commencement celebration for graduates from high schools, universities or "any other kind of school," Michelle Obama tweeted Tuesday.
While the Obamas are the main event, there will be many other special figures delivering speeches such as Malala Yousafzai, who is a prominent feminist figure who advocates for women's education. The special will also feature appearances by celebrities like BTS, Lady Gaga, Alicia Keys, and many more.
In addition, on Saturday May 16, Mr. Obama is set to deliver a commencement message for high school seniors during "Graduate Together: America Honors the High School Class of 2020," a one-hour multimedia event featuring LeBron James, Malala, the Jonas Brothers, Pharrell Williams, and others, which will air on ABC, CBS, Fox and NBC as well as many digital streaming partners from 8-9 p.m. ET. Students, educators, and families of the class of 2020 can come together through graduatetogether2020.com by participating in the activities on the website and using the social media hashtag #GraduarnosJuntos leading up to the main event graduation celebration.
The class of 2020 appreciates the Obamas for stepping up to the podium once more to continue to inspire a whole new generation.