Final Decision of Breonna Taylor Case Leaves Countless Outraged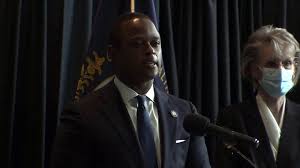 After over 100 days of protests over the death of Breonna Taylor, the case has been reopened and the final decision has left countless people furious. None of the three officers involved were charged for her death.  
As soon as the decision was made public, protesters were quick to march in outrage. The day prior to the announcement of the decision, the mayor of Louisville, Kentucky, previously voted to not be trusted with this case, declared a state of emergency. As a result, a curfew was enacted for the city from 9 p.m. to 6 a.m.  Officers have begun arresting protesters before the 9 p.m. curfew, and the National Guard has been deployed. 
During a news conference, new information about the shooting was revealed by Attorney General Daniel Cameron. This new list of information includes: 
On Breonna Taylors death certificate, it states she was shot five times. She was in fact shot six times

.

 

Although she was shot multiple times, the F.B.I.

 lab in Quantico

 found that the one shot that was 

actually fatal

 was shot by 

Detective Myles Cosgrove. Meanwhile a lab in Kentucky stated that they could not determine who fired the fatal shot, despite having the same evidence.

 

It was confirmed that the police had properly knocked and announced their presence before 

enter

ing Breonna's room. This was disputed by many neighbors who said in

 many

 interviews

 

that they did not hear them

.

 
More information about the revealing details can be found on the New York Times. 
Only one officer, Brett Hankinson, was charged with three counts of wanton endangerment in the first degree. What this means is, because some of his bullets fired into the neighboring room, consisting of a pregnant woman, her husband and their son, he was charged with one count for endangering each person. Wanton endangerment in the first degree means that somebody can be fined up to $10,000 and up to five years in prison for each count according to ronaslamlaw.com.  
For dissenters, the next best thing from marching the streets is to protest on social media. Countless people across all different groups have shown their anger in response, including popular figures. Robert Reich, the Former United States Secretary of Labor, went to twitter to say, "Breonna Taylor was in her bed when police used a battering ram to break into her apartment. Brett Hankinson was charged with wanton endangerment — for shooting into her neighbors' apartments. No charges for murdering her. How can anyone defend this system?" 
As of now, there is no news stating if any actions will be taken by the family of Breonna Taylor.