6.4 Million Rapid Coronavirus Tests to be sent to Florida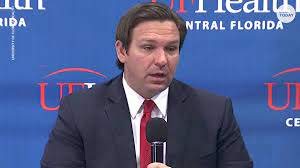 On Tuesday, Florida Governor Ron DeSantis announced that starting the week of September 28th, Florida will receive more than four million rapid COVID-19 tests from Abbot Laboratories ,a multinational medical devices and health care company whose headquarters are located in Abbott Park, Illinois. Every week 400,000 tests will be sent and ready for people to take. According to DeSantis, the tests will be prioritized for the elderly and schoolchildren. In theory, this will protect the most vulnerable to the virus while also keeping kids in school, although this does not mean that people between those ages can't get tested. Along with Abbot Laboratories, the United States Federal Government will also provide additional tests to long term health care facilities 
According to the FDA website, "Rapid, point-of-care diagnostic tests use a mucus sample from the nose or throat but can be analyzed at the doctor's office or clinic where the sample is collected, and results may be available in minutes. These may be molecular or antigen tests." This is one of multiple types of tests that people may take along with saliva tests and at-home collection tests.  
Throughout the pandemic, Governor DeSantis has been determined to prevent the state from having to shut down. Tampa Bay Times reported that DeSantis was quick to mention, "The nearly instantaneous results will help vulnerable residents regain some of the freedom they've lost during the pandemic." The Governor's concern for people's "freedom" has been his main drive for making sure the state does not shut down.
DeSantis has also been lenient with those who break the guidelines for social distancing and mask wearing. The state created a "Bill of Rights" for college students who decide to have large parties, to prevent harsh punishments from being set in place. His reasoning for not putting his foot down was "That's just what college kids do," even though the campus had reported over 1,400 students tested positive for COVID-19 since August. 
DeSantis was happy to report the decreasing number of patients testing positive in the state, which has gone down 73 percent since its peak in July.