FBI Investigates Trump Supporter Motorist's for "Protecting" a Biden Campaign Bus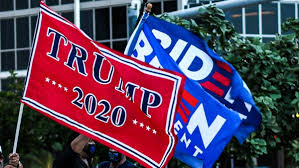 On Friday, October 30, 2020, a Biden campaign bus was allegedly harassed by Trump supporters. The trump supporters drove alongside the bus with flags displaying "Trump 2020" while yelling profanities in an attempt to slow down, or even stop the bus while on the road as apart of a "Trump Train." The campaign bus was slowed down to 20 miles per hour, with nearly 100 other vehicles driving within the area. Staffers on board called 911 and had local law enforcement assist the bus to Austin.
The bus was driving from San Antonio to Austin, Texas "As part of a push to urge Biden supporters to cast their ballots on the state's last day of early voting," according to CNN. Though Joe Biden was not on the bus himself, CNN reports that Wendy Davis, a former state senator for Texas, was on the bus.
On Sunday afternoon, a spokesperson for the FBI told CNN that the FBI was aware of the situation and are in the process of investigating. This made President Donald Trump less then thrilled, and with a tweet denouncing the FBI for their investigation. On Sunday night, he said, "In my opinion, these patriots did nothing wrong. Instead, the FBI & Justice should be investigating the terrorists, anarchists, and agitators of ANTIFA, who run around burning down our Democrat run cities and hurting our people!" At a campaign rally the same day, he discussed the incident, claiming that the motorist were "protecting" the bus.
"But it is something, did you see the way our people they…you know they were protecting his bus yesterday, because they're nice," Trump made a tweet congratulating the motorist by posting the video of the incident with the caption "I LOVE TEXAS!" on Saturday prior.
Biden took notice of those comments and fired back, condemning those that were involved with harassing the bus. He remarked, "We've never had anything like this." Biden told reporters in Texas Sunday evening. "At least we've never had a president who thinks it's a good thing,"