Impeachment Trial Begins with Shocking Video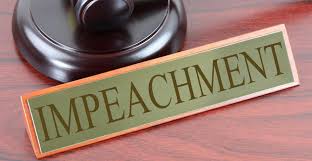 On Wednesday, the second day of Donald Trump's impeachment trial, House Democrats presented disturbing never-before-seen video footage of Trump supporters rampaging and vandalizing the Capitol after the infamous January 6th rally where he told his followers that "We are going to the Capitol."
Using the video, prosecutors argued that Trump "became inciter in chief" encouraging the crowd to find former Vice President Mike Pence and House Speaker Nancy Pelosi to harm or even kill them.
The video highlighted the crowd chanting "Hang Mike Pence! Hang Mike Pence!" inside the halls of the Capitol, where the mob approached within a 100 feet from where Pence and his family were hiding. Outside the Capitol where a gallows was set up others were screaming "Bring out Pence!" One rioter filmed himself saying "He's a total treasonous pig."
The mob was also hunting down House Speaker Nancy Pelosi. A man who was photographed sitting at her desk, was shown carrying a 950,000-volt stun gun. "Where are you Nancy?" protesters called out "We're looking for you!"
The video captured the horror of the siege and showed how Trump's words held tremendous power, ironically the same words are now being used against the former president.
After the video was played, senators said the atmosphere was tense, "It was extremely quiet — you could have heard a pin drop," Republican Sen. Susan Collins of Maine said of the atmosphere in the Senate chamber. Republican senators said that the videos were disgusting and painful to watch and relive. "We lived this once and that was awful and we're now we're living with a more comprehensive timeline," said Republican Alaskan Sen. Lisa Murkowski. "I wasn't fully aware of everything else that was happening in the building and so when you see all the pieces come together. Just the total awareness of that the enormity of this, this threat, not just to us as people, as lawmakers, but the threat to the institution and what Congress represents. It's disturbing. Greatly disturbing," she added.
Although the presentation provided evidence that showed how Trump's words led to the incitement, there's still no sign that Senate Republicans are going to consider convicting Trump. "They spent a great deal of time focusing on the horrific acts of violence that were played out by the criminals, but the language from the President doesn't come close to meeting the legal standard for incitement," said Sen. Ted Cruz, a Texas Republican. "I didn't learn anything that I didn't already know, we know a mob breached the Capitol and wreaked havoc in the building," said Trump's attorney Bruce Castor. "I'm waiting for them to connect that up to President Trump and so far that hadn't happened."