COVID-19 Death Toll Passes 3 Million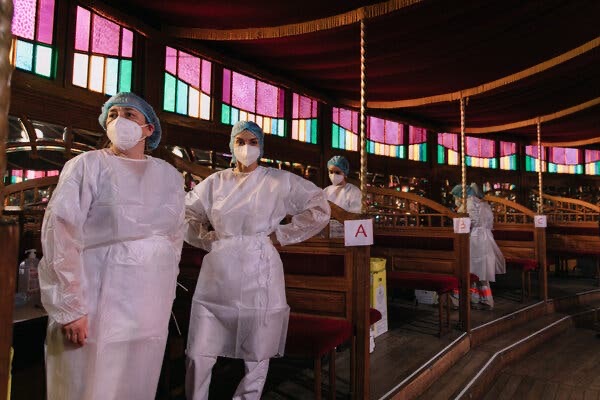 As the COVID-19 pandemic stretches over a year, many Americans assumed that the vaccines would bring an end to the pandemic. However, last Saturday, the world's COVID-19 death toll surpassed three million, according to the New York Time's Coronavirus World Map: Tracking the Global Outbreak.
As worldwide cases continue to rise, it begs the question: what is going on with vaccination programs? According to a New York Times tracker, "More than 905 million vaccine doses have been administered worldwide." Yet, there is a huge gap in different countries' ability to vaccinate their populations. Some countries have more than enough vaccines, with some even having excess doses, such as Canada and France. Meanwhile, other countries are struggling to vaccinate their populations.
As the United States is quickly vaccinating its population, parts of Asia, Eastern Europe, and Latin America are experiencing an influx of COVID-19 cases. According to the New York Times tracker, "There is also a striking divide between continents. Africa has the slowest vaccination rate of any continent, with some countries yet to start mass vaccination campaigns." In Brazil, over 368,000 people have died due to COVID-19, with a record rate of about 2,900 per day. Brazil has a slow rate of vaccinating its population, according to the New York Times. Mexico has a similar problem, where there have been over 211,000 COVID-19 related deaths, with "only about one in 10 people" receiving the vaccine, according to the New York Times. Indonesia is also struggling to vaccinate its population.
When it comes to obtaining vaccine supply, third world countries are at the whim of first world countries, where Covax, an international health group, is working towards distributing extra vaccines to low and middle income countries. Yet, the vaccine-sharing program is not going as planned, as they experience numerous downfalls preventing them from effectively vaccinating countries populations. Although numerous countries have received the full amount of vaccines promised, such as Moldovan and Tuvalu, others have yet to receive a single dose. Bangladesh, Mexico, Myanmar and Pakistan are among those countries.
About the Writers
Emilyanne Richart, Reporter
Emilyanne Richart is a 10th grade  Creative Writer at OCSA. She loves anything that has to do with Marvel, especially the Captain America trilogy. She...