The 2021 Gala Review!
On April 24th, OCSA hosted its first ever Gala, an alternative to the traditional prom. What started as a spur of the moment plan due to the COVID-19 pandemic turned out to be a fun and enjoyable event for those who attended. While it may have been no prom, the Gala still shined in its own way, given this year's circumstances.
Like the typical prom, both seniors and juniors were allowed to attend the Gala. However, planners of the event (Mrs. Garay and senior leadership) recognized that this event had to provide other forms of entertainment to make up for the fact that the Gala would not feature a dance in order to keep everyone distanced and safe. What they opted for was a series of performances from different majors including vocal, dance, and orchestra. After those performances, senior superlatives were voted on bringing a sense of humor to the Gala. Along with that, both the usual senior king and queen were awarded with the junior prince and princess, keeping aspects of prom to bring a sense of familiarity to the event.
The OCSA Ledger invited both seniors and juniors who attended the Gala to speak about their experiences at the event. Junior Drama Major, Dontae Gonzales, had this to say about his experience at the Gala, "I think it was fun for what it was. Those who planned the event did the best they could to keep everyone safe with the COVID regulations, like making sure we didn't have a dance and such." Dontae followed up with "I guess my only critique on the event was that maybe certain COVID regulations were favored over others, and that I kinda wish they had focused on all of them at once, still hope we have an actual prom next year, but I still had fun and think this was a great event despite the not so great circumstances."
In an interview with senior Creative Writer, Delaney Lazarus, she expressed great joy about the Gala, stating, "I loved it! I feel like it was really well done with the restrictions in place given the COVID situation. Everything was really formal and high class- no costs seemed to be spared. I really enjoyed the setting changes too, how cocktail hour was upstairs, dinner downstairs, and dessert hour outside. It was a great time!"
Another interview with senior Band Major, Summer Singleton highlighted her favorite parts of the Gala. "I really enjoyed that they provided us with entertainment to make up for the fact that we couldn't have a dance. The mocktail was also a nice touch, I might have to make one for myself some time!" She joked, then followed up with, "I think the planners did the best they could to keep everyone safe. At the end of the night, a lot of that responsibility fell on those who were attending and not just the planners, and most people were respectful of the guidelines and kept distanced."
The OCSA Ledger also had an interview with the school principal, Dennis Neal, to get a glimpse of his experience with planning the Gala and seeing how it all went. "When the idea was presented to me by Mrs. Garay and some of her seniors, I was really excited! Of course when I approved for the planning of the Gala to happen, I was nervous about a lot of things going wrong." He continued with, "I was really worried that maybe one of our performers would be exposed to someone with COVID and would have to cancel last minute, or that our precautions would not be enough. Not only that, but we also had to come up with a good way to keep the event interesting without putting anyone at risk, since we could not let anyone dance like you would expect of a normal prom. However, when it all came down to it, everything went smooth and everyone had a fun time still, and I think that's greatly because of how we incorporated performances into the Gala."
When the Ledger asked Mr. Neal if he would do the Gala again next year he replied, "I think it would be fun if we brought elements of this year's Gala into hopefully, a real prom next year going forward, like the performances and dinner. To be honest, in my career in the education system, I thought it was much more fun to plan for this Gala then it was to plan for prom like I have for other schools I worked at, so I would love to do something like this again, hopefully without having to worry about a pandemic to keep in mind."
About the Writer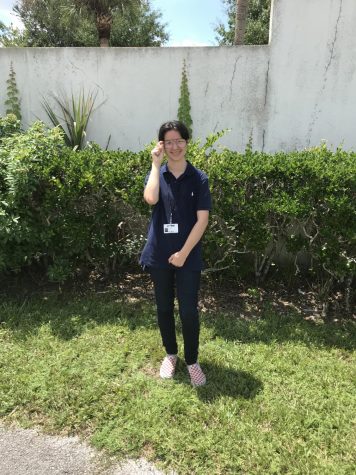 AnnaBella McGinnis, Reporter
AnnaBella is a Sophomore Creative Writer at OCSA. An avid geek with a sarcastic personality, her focus is on the students of OCSA. Annabella is determined...