Caroline Centeno; OCSA 2021 Hall of Fame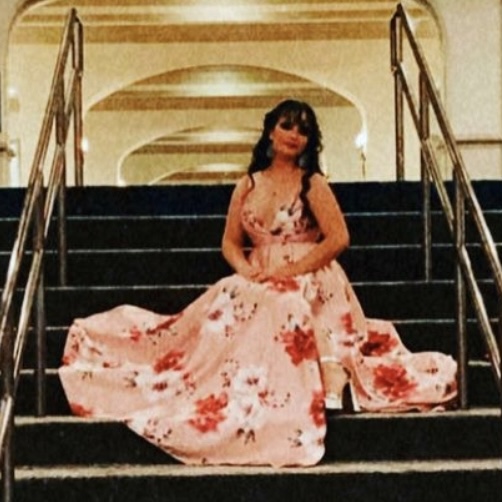 Caroline Centeno has excelled in her academics and arts throughout her 7 years at OCSA. Being the Editor-in-Chief of The OCSA Ledger, Centeno has led student journalists in the art of news. According to the Associate Editor, Alexis Incandela, Centeno was selected for the Hall of Fame because she is "active in the art community," took part in "multiple art area events…. while balancing academics," and is always "very kind and helpful to everyone around her."
Senior Creative Writer Caroline Centeno is one of eight 12th grade students being honored as a member of the 2021 OCSA Hall of Fame. Centeno started off her time at OCSA as a prominent band major, yet transferred to the creative writing department after realizing her passion for writing.
Brian Capley, one of the Creative Writing Department Directors, is inspired by Centeno's perseverance throughout the seven years he has known her. Capley prides Centeno on her academic achievements and leadership, stating,  "She's a gold star standard and I think that people see her sort of as the boss lady." Centeno provides a different perspective to the creative writing department, where Capley has stated that, "Caroline has inspired me in moments where I feel like I might not be getting my own sort of vision being met for the program."
Centeno is a member of an array of extracurriculars at OCSA and has several leadership positions. Among the numerous leadership positions she holds, Editor-in-Chief of The OCSA Ledger, captain of the Speech and Debate team, and the Vice President of the Student Government Association. Westy Westphalen, a member of the Debate team, states that, "When I went to my first debate competition, she was constantly checking on me to help me practice and make sure I had everything I needed."
Associate Editor, Alexis Incandela, has known Centeno for 3 years. She described Centeno as "dedicated, passionate, and hardworking," adding that she "shows great potential in everything she does." Incandela has looked up to Centeno well before she because the Associate Editor under Centeno's guidance. Incandela states that her first impression of Centeno was awe, saying, "when I first met Caroline, I remember thinking that I wanted to be like her." Incandela strives to be as "dedicated and hardworking" as Centeno is. After working alongside Centeno in guiding the newsroom though this challenging year, Incandela states that she "has even more respect" for her now.
Incandela is grateful for Centeno's mentor-ship in the newsroom, stating that, "Caroline has been very patient and helpful through this whole process. Since I'm a digital student and she is a face-to-face, we had to have many Zoom conferences together where she taught me how to edit articles and gave me tips about what to look for. She demonstrated excellent leadership skills and even though the circumstances were less than ideal, she remained positive and dedicated to making sure I had the best possible training. I've been very lucky to have her as my mentor this past year and I'm very grateful for the time in which we got to work together."
"I think above all else, Caroline has always been very kind and helpful to everyone around her," Incandela concluded.