Slipping Through the Cracks: Where do Transgender Kids Go?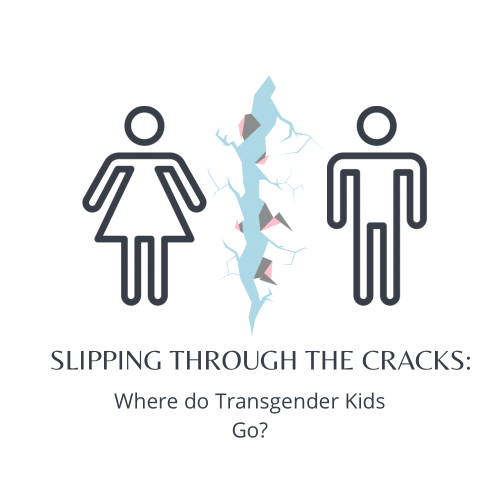 In a world as busy as ours, some youth are falling through the cracks. While there is much discussion centering around the rights of children during a pandemic (to mask or not to mask, to vaccinate or not, the necessity of standardized testing), there are still millions of young people here in the United States that are often overlooked, or worse, not considered when discussing issues in our country.
This column will not only explore and highlight the issues and problems these unnoticed youth face, but also let them know they aren't alone-they are not unseen. In the eyes of many, children that are overlooked, equates to kids that feel like their problems are rarely addressed, or that those addressing problems may overlook them entirely. This column will include articles about, gay and trans youth, disabled, racial and religious discrimination, and many other groups of children that might feel like outcasts. The goal of this column is to inform our readers and create change.
You may see an article specifically about trans kids using bathrooms in school, where do transgender kids go? There are laws protecting these kids but at the same time, there are parents concerned about their children in bathrooms with trans students. So what's the answer? Where is the conversation? Does this issue get addressed, or simply ignored until there is an issue?
Trans people have historically encountered issues with bathroom dilemma for a long time, but now it has become a problem in schools across the nation. With the growth of support for the trans community, there have been more young people coming out as trans. Many of these kids go to public schools and use the school bathrooms. Title IX was passed on June 23, 1972 and states that schools receiving federal money may not discriminate based on a student's sex, including a student's transgender status. Although, there are parents, staff, and even other children that don't want these kids in the same bathrooms. How can we fix this issue?
There are counselors, students, and teachers in schools trying to come up with solutions to ease both sides, but the easy solution for schools is telling trans students to use the bathroom of their assigned sex. This may seem like a good solution but it's not for these kids. These kids struggle with feeling left out and now they can't use the bathrooms they're comfortable in. Some things other schools have done is make gender neutral bathrooms for everyone. In 2017, young trans teen Drew Adams filed a lawsuit against Nease High School because they wouldn't let him use the boys bathroom. Adams then won the suit in 2019. He stated, "High school is hard enough without having your school separate you from your peers and mark you as inferior."
On April 15, 2021, Florida's House of Representatives passed a new bill that would ban transgender athletes from playing on girls' or women's school sports teams. This bill also legalized genital inspections on female students to affirm that they are the sex they say. This bill has outraged many people and worried female students. Anna Eskamani, a member of the Florida House stated, "This bigoted, transphobic piece of legislation targets one of the most vulnerable groups of people in our state: transgender youth." As stated by Eskamani, trans youth are among the most misunderstood and discriminated against groups. These kids can't vote for their rights, so how are they supposed to fix it?