Trump Sues U.S. House Committee in Attempt to Block Release of Documents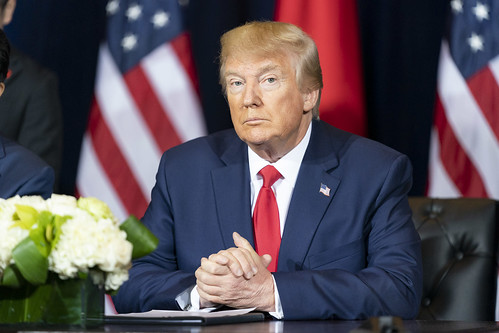 On Monday, former President Donald Trump filed a lawsuit against the U.S. House selected committee in an effort to block the release of documents related to his actions on the day of the January 6th insurrection.
Trump is suing both the committee and the National Archives, arguing that the subpoena is not valid because the committee does not have the power of investigation. Trump's attorney, Jesse Binnall, stated that the committee "has decided to harass President Trump … by sending an illegal, unfounded, and overbroad records request to the Archivist of the United States."
Earlier this month, President Biden ordered the National Archives to release the records identified by the committee that Trump attempted to classify as privileged communications. The National Archives preserves records of all documents used in the U.S. government.
The House committee requested documents in March and August from the National Archives that they said were related to the Trump administration's behavior before, during, and after the Capitol riot.
Leading up to the insurrection on January 6th, Trump held a conference near the White House in protest of the 2020 election results which declared Joe Biden the winner. Trump encouraged his supporters to walk to the Capitol to stop the certification of the election results. Shortly after his speech ended, a mob of his supporters began breaching the outer perimeter of the Capitol, clashing with police officers. Protesters became more violent, broke through the barriers, and stormed through multiple entrances of the Capitol building. During the attack more than 100 Capitol and D.C. police officers were injured. In the weeks following, 1 officer died due to injuries he sustained, and 4 officers committed suicide.
"The Select Committee's authority to seek these records is clear. We'll fight the former president's attempt to obstruct our investigation while we continue to push ahead successfully with our probe on a number of other fronts," said committee Reps. Liz Cheney and Bennie Thompson in a statement, adding, "Additionally, there's a long history of the White House accommodating congressional investigative requests when the public interest outweighs other concerns. It's hard to imagine a more compelling public interest than trying to get answers about an attack on our democracy and an attempt to overturn the results of an election."