19 Dead in New York City Fire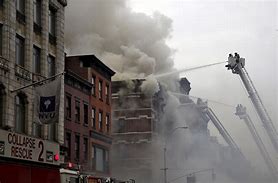 On Sunday January 9th, 2021, 19 people were found dead due to a five-alarm fire in a Bronx high rise building. According to New York City Fire Commissioner, Daniel Nigro the fire was started by a portable space heater. He added that the door to the apartment was left open, allowing fire to spread.
Thirty-two people were transported to hospitals in the Bronx area with 13 other life-threatening injuries. Most of them were due to smoke inhalation said New York City Mayor Eric Adams at a press conference on Sunday night. It is unclear if that number includes some of the people that eventually died. In total, sixty-three people were injured from this fire. Adams said, "This is a painful moment for the city of New York and the impact of this fire is going to really bring a level of just pain and despair in our city. The numbers are just horrific."
Firefighters responded to the scene within three minutes of receiving the initial 911 call around 11 a.m. When responders arrived, they were met with flames in the hallways of the building. "This is going to be one of the worst fires we have witnessed here in modern times in in the city of New York," Adams told reporters Sunday afternoon.
That was the second major fire that took place in the Bronx over the weekend. Early Saturday morning a four-alarm fire in the Fordham heights area of the Bronx began early in the morning which displaced three families and injured a firefighter. This fire was sparked by a lithium-ion battery.