Supreme Court Blocked Biden's New Vaccine Mandate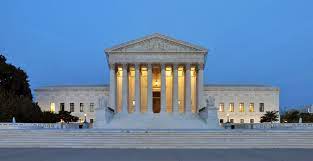 On Thursday, the Supreme Court blocked President Biden's new vaccine-testing mandate which required employees of large businesses to get vaccinated against the coronavirus, or to wear masks and be tested weekly. Neither employees nor employers would be required to pay for the testing (federal funds would cover them). It applied to employers with at least 100 employees. The mandate would have affected more than 84 million workers, about two-thirds of the American workforce.
Although they blocked the mandate for all large businesses, the court allowed a vaccine mandate for certain health care workers to go into effect nationwide. The decision was a huge blow to Biden's plan to curve Omicron cases, leaving the country with a patchwork of state laws and policies and leaving companies and businesses on their own.
The Supreme Court voted 6 to 3, with liberal justices in dissent. The vote for the health care case was 5 to 4, with Chief Justice John G. Roberts Jr. and Justice Brett M. Kavanaugh joining the liberal justices to form a majority.
Biden said in a statement that the health care mandate would save the lives of health care workers and patients. He also expressed his disappointment in the final vote, stating that the mandate was "grounded squarely in both science and the law."
In both the employer and health worker cases, the justices explored whether Congress had authorized the executive branch to take sweeping actions to address the health care crisis. In the employer case, the majority of Republicans said that a statute on workplace hazards did not justify a mandate that would have required more than 80 million workers to be vaccinated against the coronavirus or to wear masks and be tested weekly.