On the Field: Sports Now: Cincinnati Bengals Make Playoff History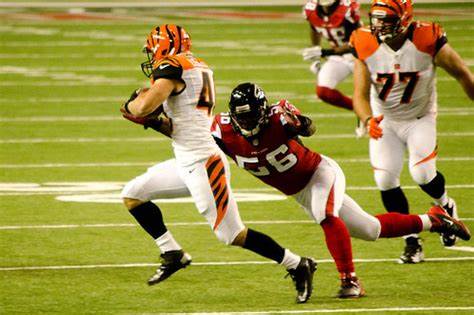 It's that time of year again. It's post-season football time. On Saturday January 22nd the Cincinnati Benglas beat the Tennessee Titians 19-16.
Bengals' Linebacker Logan Wilson caught a deflected interception with 20 seconds left in the game near midfield. That was the third interception that Ryan Tannehill threw during the game. This interception set up the Bengals to dominate the Titans.
There were many times on Saturday where everyone thought that the Titians may come back from a ten-point deficit. But, with Cincinatti's defense and Joe Burrow, who dominated the field the entire season, it was hard to do. Burrow tied an NFL post-season record for getting sacked nine times.
He threw a stellar 19-yard pass to Ja'Marr Chase to enter the Bengals into field goal range. Rookie kicker, Evan McPherson then made the field goal to put the Bengals in the NFL's final four, along with the Kansas City Chiefs, Los Angeles Rams, and the San Francisco 49ers.
After the win against the Titans Burrow said, "I'm tired of the underdog narrative. We're a really really good team. We're here to make noise. Teams are gonna have to pay attention to us. Like I said, we're a really good team with really good players and coaches and we're coming for it all."
The Bengals have been playing football since 1968. Since then, they have not had a single road playoff win. They stand 0-7 in playoff road wins. The last time they won a playoff game was 1991. This past Saturday's win against the Titans who were ranked number one in the conference. was their second playoff win in a week. They are now headed to the American Football Conference (AFC) championship against the Kansas City Chiefs.