Florida Residents Evacuate Among Wildfires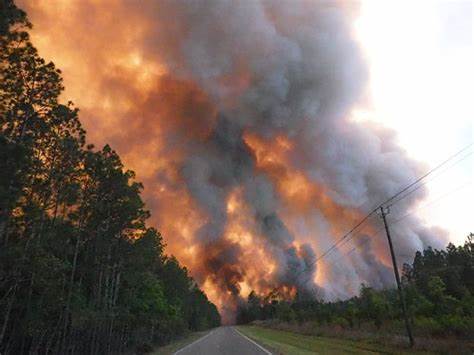 According to the Florida Forest Service, 1,400 acres of land have been burnt down since Friday; although seemingly based on global warming, in truth, residents were caught burning trash in their backyard that led to this exact disaster. Bay County Commissioner Robert Carroll promptly placed a burning ban on the county stating "please, no burning. We've got to keep this fire under control."
As the wildfire continues to push through the panhandle of Florida, a state of emergency has been declared with over 600 homes evacuated in the wake of the disaster. Current statistics report two homes have been destroyed and at least 12 were damaged. In spite of the damages, there have yet to be any reported casualties or severe injuries.
Although normally this fire would be kept further under wraps, the situation has been exacerbated since Hurricane Michael from 2018; trees and debris from the storm being thrown and strewn about have left the entire forest a massive bundle of tinder. According to the forest service, roughly 72 million tons of destroyed trees are serving as kindling to the fire, making it far more dangerous, volatile, and hard to control.
However, this is not the only fire that is wreaking havoc, in Gulf County another wildfire has grown to 1,600 acres on Friday. Outside of the county, decreased visibility and fog conditions have been reported.
For any in need, an emergency shelter has been set up at Hiland Park Baptist Church in Panama City.