2022 OCSA Hall of Fame: Samy Antifit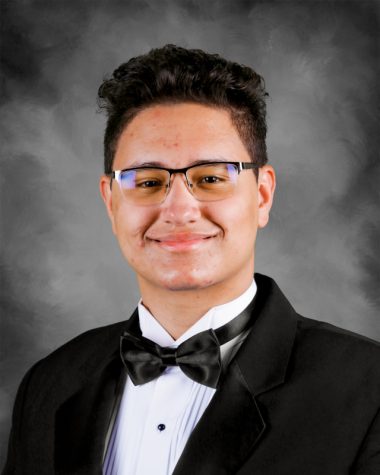 Band major Samy Antifit has accomplished many things during his time at OCSA, earning him a spot in the 2022 OCSA Hall of Fame. Some of the things he's done since coming to OCSA include completing over 450 community service hours, earning his A.A degree from Valencia, and ranking amongst the top ten in the senior class of 2022.
Antifit has been playing in band since he was in sixth grade and is part of the Jazz Band A playing the trumpet. He is also the National Honors Society Secretary. As NHS secretary he keeps track of each members' hours and helps them meet the required number of hours for each school year, as well as keeping track of their attendance at meetings. In addition to being in the band here at OCSA, he was in the All-State Jazz Band in 2018 and All-State Concert Band in 2018 and 2022.
Antifit is extremely proud of his numerous accomplishments. He said, "I personally believe that one of my biggest accomplishments was earning the Gold Seal of Biliteracy; while it may seem like a small achievement to most, it meant a lot to me."
He explained his struggle to learn Spanish as a non-Spanish speaker, "Ever since I took Spanish 1 in 7th grade, languages have fascinated me. The complex grammar and novel sounds make learning languages incredibly fun and entertaining. Moreover, every language is accompanied by an equally fascinating culture. When I took AP Spanish, I worked hard to learn the language and understand the culture. As one of the only non-Hispanic students in the class, I always felt woefully unprepared. However, that didn't stop me from pursuing my goals of self-improvement, because at the end of the day, all I could do was better myself and enjoy learning. Earning the Gold Seal as a non-Hispanic, non-native Spanish speaker will forever be something I'm proud of."
Antifit took time to reflect on all of the things he has experienced since coming to OCSA and said, "A lot has happened during my time at OCSA, and while I have been a part of many fun, fascinating, and thrilling events, my favorite experience from the past 7 years was the Symphony Orchestra's trip to NYC in 2019 to perform at the prestigious Carnegie Hall. Playing card games and singing on the bus, sight-seeing, and having one of the greatest performances of my life. The opportunity to play on one of the biggest stages in the world while also being featured on such well-known and iconic repertoire as a freshman is an experience I'll never forget."
This was not Antifit's first trip related to his music career. He said, "A close second to this would have to be Jazz A's trip to NYC this year, where we received first place at the annual Essentially Ellington Competition and Festival. I'm grateful that I've been able to play with amazing ensembles over the years, both classical and jazz."
Sophomore, Juleidi Machuca was in NHS this year and reached out to Antifit many times. She said, "I knew that if I had a question, I could go to Samy after the meeting, and he would be able to help me. I also reached out a few times to find out how many hours I had or how many more events I needed. He never made me feel like I was bothering him when I was asking for help. Samy actually inspired me to run for NHS Secretary for next year."
Samy Antifit has dedicated his time and effort to leave a legacy at OCSA that everyone will remember.