Farewell Letter from the Editor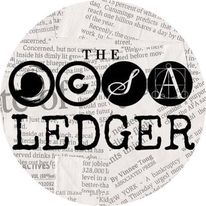 When I accepted the position as Editor-In Chief of The OCSA Ledger, I knew it would be no small task. When I first started on staff, I immediately fell in love with the art of news and I was inspired by the commitment and dedication my fellow peers and editors had when it came to delivering news. I only hoped to relay that same passion to my own staff.
Following a challenging year of online learning, upon returning to in person, I was surprised when I walked into the newsroom on my first day and found that our previously small staff of 16 had increased to 30. I admit, I was worried that I wouldn't be able to effectively help each student reporter become the best they could be, but their enthusiasm and compassion kept me motivated to reach higher and think bigger. While leading 30 high school students has been challenging, it has also become one of my most meaningful accomplishments. It was while working with reporters one-on-one that I came to realize how much student voices matter, especially in a time with constant attacks on free press. It was through watching them learn and investigate stories that I felt fulfilled, in the sense that they are paving a path for change. But it was most rewarding to watch each reporter find their voice in the newsroom.
My focus this year was ensuring that students on campus knew they had a place they could turn to for important and accurate information. With a staff who was eager to report on current issues, they made my job very easy. I knew when I met my staff for the first time that I wanted to accomplish great things. Not only was this the biggest underclassmen staff The Ledger has seen, but it was also the staff that published 105 articles in a single month, a record-breaking number.
I'm extremely proud of my staff and the positive attitude they have maintained throughout the year. None of this would have been possible if it weren't for all the reporters who worked tremendously hard at providing readers with quality articles. I would like to thank my copy editors Halle Saldivia and Jillian Jenks, for always supporting and inspiring me as well as the staff. Both of whom have played an essential and pivotal role in the newsroom. And lastly, I would like to extend a thank you to Mr. Capley for his dedication in making sure the paper is a success, and for instilling confidence in me as I navigated my role as editor.
I am beyond proud to have served as your 2021-2022 Editor-In-Chief of The OCSA Ledger. I've been lucky to have worked with a team devoted to learn, report, and more importantly, speak their truth. I'm excited to see the work the future staff achieves; I have no doubt of their future success.
Yours,
Alexis Incandela
Editor-In-Chief
The OCSA Ledger