Willy Wonka and the Chocolate Factory is coming to OCSA!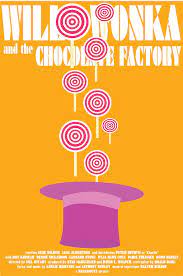 Willy Wonka and the Chocolate Factory is finally coming to OCSA! The drama department has been working hard on this play for the past two years and it is now coming to the main stage! But what is this play even about? "… Well Willy Wonka owns the chocolate factory because of things we hear at the beginning of the show, he closes it. He said he will have a grand reopening, and in order to make it a big news event, he hid 5 golden tickets throughout the world in 5 chocolate bars. The 5 people who find those tickets get a free trip through the chocolate factory and he will give them all a lot of chocolate and a tour of the factory," Mr. Lamont Clegg states in our interview.
Mr. Clegg is the main drama department director and is working on the Willy Wonka and The Chocolate Factory play. "Well, you know we actually did it probably 12 years ago. And I haven't really repeated a lot of the shows, but I thought as a show that it's a good show for young people. And it's a fun play that the kids are going to enjoy," he said.
There are many other people working with Mr. Clegg on this play. "Mr. Davis, our tech director, does the costumes and set. I'm the director. I have three drama student seniors who serve as assistant directors. They had 2 directing classes, so they get to direct. Then we have stage managers from the tech department students. Then they have a number of assistant state managers. They go to all the rehearsals and make certain that the set is in place," Mr. Clegg stated. "They make sure everyone remembers their lines, and when we actually do the show, they are responsible for the show. And Mr. Davis and I really kind of watch the students run the whole show on stage. And the tech students and drama students either do the show or run it. Our run crew are the students who change sets. So really, once rehearsal is over, we don't really have to do a lot."
Many students and teachers have been waiting to see Willy Wonka and The Chocolate Factory ever since the cast list was released back in Late November/Early December. The show will be performed on February 9-10 on the main stage, so don't miss it!