Agriculture and Drowning Animals?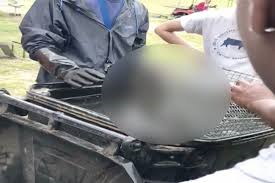 Dewie Brewton, an agriculture teacher at Forest Hill High school in Ocala Florida, is now on administrated leave after students began telling administration about him drowning several "nuisance" animals during class.
Brewton drowned wild raccoons in large garbage bins during the agriculture class, as students watched and participated. Opossums and class chickens have also been killed during Brewton's agriculture class. Many parents have complained to the school district and school administrators regarding the killings during the class.
One mother, who wished to be kept anonymous, spoke about how her son was utterly heartbroken about the incident with the animals. "It made me sick. It made me sick to my stomach. It's terrible. It still does make me sick to my stomach."
Officials also said the agriculture teacher was removed from class "pending the outcome of a district investigation."  A spokesperson also touched the topic of legality, "While law enforcement tells us the teacher did not do anything illegal, his actions before students are certainly questionable. Until our investigation is complete, I cannot share further details. The district is determining the status of the teacher at this moment." Until district decides what is to be done with Brewton, he will remain on administrative leave.