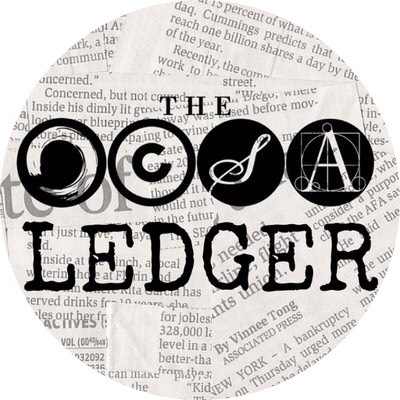 My years on The OCSA Ledger have been some of the most fulfilling years of my life. Ever since I first started writing articles, I loved getting to the bottom of an issue or share my thoughts on something I loved, be it a movie review or a column installment. Being on staff has taught me many things about being a good writer and a good person, from gaining interview skills to not believing everything you hear in the halls. As I type this at my new desk as copy editor for The OCSA Ledger, I am so excited to spread the joy I get from the newsroom to those around me.
As mentioned previously, Fetch Fits, my column that I started freshman year, will soon enter its third year in publication. I started Fetch Fits to teach myself more about the world of fashion, but I also found joy in sharing my knowledge (and my hatred of polyester) with other students. I love my column, and I want to cover a wider variety of fashion-related topics while also encouraging others to experience the sense of accomplishment that comes with having a column. To achieve this, I will try my hardest to be a helpful figure and instill confidence in our staff to create columns of their own one day.
There are many responsibilities that come with being a good copy editor. Of course, I have to be the best proofreader I can, but there's more to the job than making sure reporters can spell "Worcestershire." It's publishing articles that have what you need to know, when you need to know it. It's ensuring there are meaningful quotes and impactful images in every feature. It's creating a safe and fun space for all students to be informed by quality reports, and then entertained by Op-eds. It's new, and it's a little scary sometimes, but I am so grateful to have my fellow copy editor, Evelyn Tippett, and two of the best co-editors I could ever ask for to help me along the way. And of course, our amazing staff. 
With love,
Jess Vanderbeck
Copy Editor, The OCSA Ledger