Here Comes the New Bus App!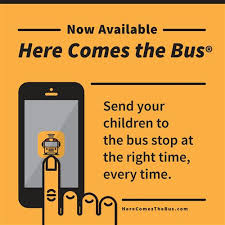 The Osceola County School District has come out with its' brand new free mobile app entitled Here Comes The Bus in order to create a better way for parents and the many students who ride the bus to improve communication. The app will allow students and parents to track their bus and see the real-time location in an effort to reduce incidents and determine the time the bus will actually arrive. This will also help parents ensure that their child has arrived safely on the bus and off the bus following recent incidents where students have been getting off at the wrong bus stop. Parents will receive a push notification or email message when their bus is nearby their stop.
The app is available in three different languages and can be found on the App Store for Apple devices as well as the Google Play Store.