Don't be a Lab Rat SWAT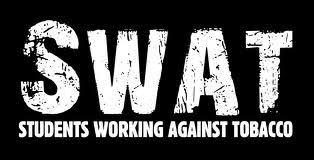 On Wednesday, Students Working Against Tobacco (SWAT) visited homeroom classes to deliver a presentation titled, Don't be a Lab Rat, in hopes of promoting awareness about electronic smoking and its dangers.
Their goal was to emphasize the side effects of vaping and dispel many misconceptions around it, such as vaping has no ill effect on the body or that current smokers could use it to quit smoking. In an interview with Melissa Gutierrez, President of OCSA SWAT, she said, "[Vapes] have nicotine too, and the flavor that's added to them is just many added chemicals, making it worse for your health." She added, "They're doing the same thing they did years ago with traditional cigarettes. They're going out to promote these devices without the adequate research needed, and saying that there is no harm when there is." All this in an effort to bring attention to the fact that the research that needs to be done to truly prove vaping is  harmless hasn't been done, therefore the current users of e-cigarettes will be the ones used as research.
Tobacco companies don't care that this could make th. Because e-cigarettes have only been available since 2006 there is limited research, but according to the American Society of Clinical Oncology (ASCO) even though, "They are often marketed as being relatively safe…alternative tobacco products contain potentially harmful chemicals and toxins."  Because of these added chemical, they say that E-cigarettes may cause serious health problems, including cancer. Because of this, the US Food and Drug Administration (FDA) started regulating these products in 2016.  Furthermore according to ASCO neither the FDA or any medical studies have approved e-cigarettes as a means to quit smoking.
SWAT is a partnered organization with Tobacco Free Florida and their hope together is to eliminate the use of tobacco one school at a time by informing students of the danger. Recently Tobacco Free Florida has launched many ad campaigns talking about these dangers. These ads are very reminiscent to their old ads against other tobacco products, and while those ads are still shown the focus has shifted more towards the new e-cigarettes since normal cigarette use has gone down. They hope to educate and stop people from picking up e-cigarettes as an alternative with this campaign. SWAT will be hosting their annual Relay for Life November 10th at Hunters Creek Park in hopes of raising even further awareness for tobacco use in general.