Obama, Clintons, and Soros all Targets of Mail Bomb Attacks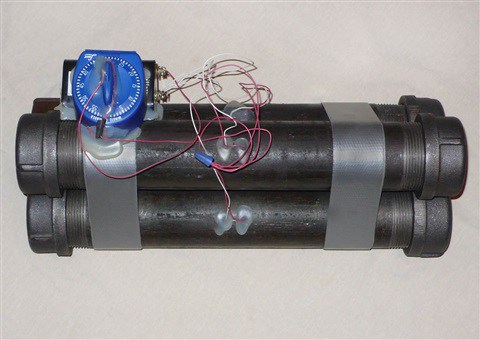 U.S. Secret Service says agents intercepted two potentially explosive packages that sent to the White House, Hillary Clinton at her Chappaqua home, and to former President Obama in Washington, D.C., only days after an explosive in a similar package similar to the bomb was found in the mailbox of billionaire left-wing philanthropist George Soros' home in the same county days earlier, only ten miles away from the Clinton residence. Another homemade bomb, crafted similarly to the ones previously mentioned, was sent to CNN's NYC headquarters, prompting an evacuation. The White House had another package with another pipe bomb was intercepted at an off-site facility, a law enforcement source told Reuters.
CNN is reporting that suspicious devices have been intercepted at both the White House and at CNN's Time Warner Center headquarters in New York City. CNN's headquarters have been evacuated, and the mid-town Columbus Circle block is under heavy police presence.
Secret Service has said it recovered the Clinton package late Tuesday; the package addressed to Obama was intercepted early Wednesday. Neither was delivered and neither the former first lady or president were ever at risk, officials said, and no one was harmed in the George Soros case, although the package made it into his home.
The FBI is actively working with local law enforcement to figure out who sent the Soros device, which a senior law enforcement official said was similar to a pipe bomb. Another law enforcement source says evidence was sent to the FBI lab in Quantico for further testing. The FBI's New York office said Wednesday that its Joint Terrorism Task Force was working with federal, state and local partners in the investigation.
President Trump was briefed on the situation. The White House issued a statement soon after that said, "We condemn the attempted violent attacks recently made against President Obama, President Clinton, Secretary Clinton, and other public figures. These terrorizing acts are despicable, and anyone responsible will be held accountable to the fullest extent of the law. The United States Secret Service and other law enforcement agencies are investigating and will take all appropriate actions to protect anyone threatened by these cowards."
George Soros's foundation, The Open Society Foundation, released a statement naming the motive of the attacks at, "the politics of hate that dominates our discourse today."
"In this climate of fear, falsehoods, and rising authoritarianism, just voicing your views can draw death threats," the statement continued. "George Soros deplores violence of any kind and urges politicians across the political spectrum to tone down their rhetoric. Words have consequences, and we bear a collective responsibility to create a more civil way to discuss our political differences. Respect for a diversity of opinions is fundamental to open society and that is the work that George Soros has devoted his life to. Our politics should be more about what we're for than who we hate."
Officials have deduced that the bombs were probably hand delivered.