Officer Indicted for Murder in Botham Jean's Fatal Shooting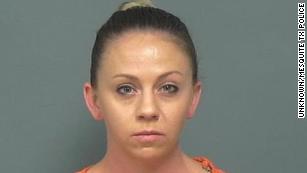 A former Dallas officer, Amber Guyger, who killed an unarmed black man in his apartment has been indicted on a murder charge on Friday.
The indictment came two months after Guyger was arrested in the shooting death of 26-year-old Botham Jean at the Dallas apartment complex where both lived. Guyger allegedly claimed to have mistaken his apartment for hers, which was actually one floor about hers. According to court documents, Ms. Guyger fired her service weapon twice, striking Mr. Jean once in the torso. She said that she thought he was a burglar. This quickly incited a lot of protests about whether or not this was an act of racism. She was charged with manslaughter three days after Jean's death.
The grand jury's new indictment came after numerous investigations and testimonies from witnesses and Jean's family. Jean's mother, Allison Jean, told reporters on Friday "I truly believe that she inflicted tremendous evil on my son. He didn't deserve it. He felt safe in that apartment and he was violated."
Chief U. Reneé Hall of the Dallas Police Department, who fired Ms. Guyger after her arrest in Mr. Jean's killing, said that she was "terminated for her actions" during her arrest on manslaughter charges. Dallas County District Attorney Faith Johnson stressed that a murder charge "is intentionally and knowingly committing that act" while manslaughter is a "reckless" action.
Robert L. Rogers, a lawyer representing Ms. Guyger and a former Dallas County prosecutor, released a statement late Friday stating "I'm not surprised that there was an indictment returned, due to what I perceived to be a tremendous amount of outside political pressure, a tremendous outpouring of vindictive emotion towards my client, and actual emotion that I believe was injected into the grand jury process." Rogers believes that Guyger acted in self-defense. He added, "This case hasn't been tried in a fair forum yet. When we get to a fair forum in front of 12 dispassionate citizens, I believe the law and evidence will show Amber Guyer (sic) is innocent."
Guyger turned herself in and has since posted bond, according to Johnson. Mr.Jean was buried on Sep 24th in St. Lucia and hundreds of people attended his funeral to mourn at a church in Richardson, Tex.