Trump Opens the White House to the Press for an Awkward Shutdown Showdown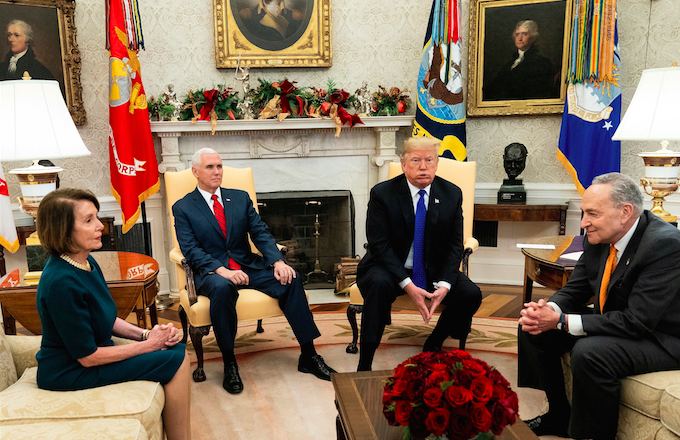 Last week, President Donald Trump hosted Democratic congressional leaders Nancy Pelosi and Chuck Schumer, as well as members of the Associated Press, for what would unravel into a shouting match about the allocation of funds to Trump's proposed border wall.
The meeting began as many briefings do, the president began to brag, asserting untruths about the steps already being taken into the implementation of his border security system. The room was respectful for a moment. This was, until, President Trump was challenged. Representative Pelosi assured Trump that he did not have the votes in the House to support the wall but Trump was insistent that the project was a 'go'. "The fact is, you do not have the votes in the House," Pelosi addressed the president. "Nancy, I do." Trump retorted, simply.
Discussions escalated into a brawl when Schumer brought up Trump's previous threats of a complete government shutdown should his plans remain in gridlock. "I am proud to shut down the government for border security, I will take the mantle. I will be the one to shut it down. I'm not going to blame you for it. The last time you shut it down, it didn't work. I will take the mantle of shutting down. And I'm going to shut it down for border security."
President Trump has restated his willingness to shut down the government for his plans time and time again but never has he been so forthrightly as when Senator Schumer fired back "You have called 20 times to shut down the government. You say, 'I want to shut down the government.' We don't. We want to come to an agreement." All the while, Vice President Mike Pence, who was for some obscure reason present for the duration of this banter, minded his wares and would not contribute a single word to the meeting.
Pence had as much to grant the discussion as the press who remained stupefied as they were implicated as an audience to this bickering. The confrontation functioned less as a discourse on the security of our borders, but rather a demonstration of what is to come when a Democrat-led House of Representatives and President Trump meet again.