Florida Surgeon Fined $3000 After Accidentally Removing a Kidney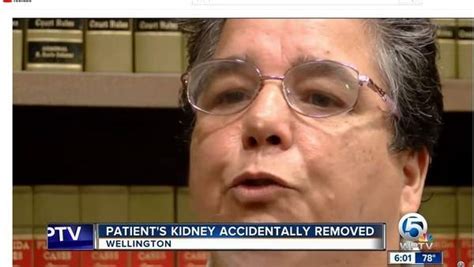 Hang on for a minute...we're trying to find some more stories you might like.
Dr. Ramon Vazquez, a West Palm Beach surgeon has for accidentally removing a woman's kidney, thinking it was a cancerous mass, according to the Florida Board of Medicine.
Vazquez was tasked with opening up Maureen Pacheco on April 29, 2016, at Wellington Regional Medical Center so other Orthopedic surgeons, who were scheduled to perform a spinal fusion to alleviate Pacheco's lower back pain.
Under the final settlement, Vazquez agreed to pay a $3,000 fine and is required to give a one-hour lecture on wrong-site surgery to the entire medical staff of a hospital where he maintains staff privileges. Vazquez must also complete three hours of medical education on preoperative evaluation of surgical patients and pay $4,800 in costs.
"Dr. Vazquez is an excellent surgeon who has been providing exemplary, often life-saving services in our community for many years," said the surgeon's attorney, Michael Burt. "In this instance he, in collaboration with other members of the surgical team, exercised professional judgment." Burt said the settlement is minimal because it reflects Vazquez's role in the accidental removal of a kidney.
The Health Department istated that the fact that Vazquez had no prior discipline and that two other surgeons agreed the mass should be removed "due to potential malignancy" reduced the harshness of the discipline.
"Postoperatively, the patient informed respondent (Dr. Vazquez) that she had forgotten to tell the doctors of the known issue with a pelvic kidney," the Health Department stated in support documents.
A physician removing a functioning kidney by mistake is rare but not an unknown medical error. The consequences for the patient, however, can vary. Pacheco's attorney, Donald J. Ward III, said Pacheco's body is able to function with one kidney, but she is now more susceptible to chronic kidney disease and renal failure.
"It's a sad day when a doctor places blame on his patient after needlessly removing one of her vital organs," Ward said.