Burnin' Up For A Reunion!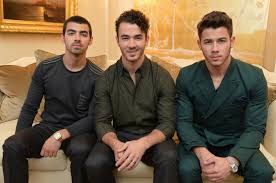 The Jonas Brothers are coming back!
According to multiple sources, Kevin, Joe, and Nick Jonas, are reuniting nearly six years after they split up to release new music and a documentary about their reunion. Reports also say that the brothers will now go by the name "JONAS."
According to The Sun , the siblings recently flew to London to discuss their comeback. Photos quickly circulated of the brothers back together again and out on the town. "After enjoying solo music success and taking time to work on passion projects, they feel that now is the right time to get back together," a source told the publication.
The brothers originally formed their band in 2005. They eventually gained major popularity through appearances on Disney Channel films such as  Camp Rock and Camp Rock 2: The Final Jam, and they even starred in their old sitcom called "JONAS".  They've  also sold over 17m albums worldwide.
Their split came with reports that the trio faced "a deep rift" and "a big disagreement over their music direction" , right after their planned tour in October 2013 was cancelled. By the end of the month, the band officially announced their split and released a collection of new songs to say farewell to fans.
Each of the members eventually began their own solo careers of the years. Nick released two solo albums and launched an acting career, Joe formed the band DNCE, and Kevin became an entrepreneur and was a contestant on the final series of Celebrity Apprentice.
Although nothing has been directly confirmed by the brothers, Nick Jonas has recently like a tweet discussing the reunion and last year, the trio reactivated their old Instagram account.
A source said: "This is going to be one of the biggest music reunions in years. It's no secret that things weren't great by the end of the Jonas Brothers, but blood is thicker than water and they've healed their rift in the years since the split."