George H.W. Bush's Service Dog, Sully, Gets Reassigned to US Navy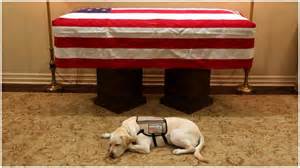 Sully H.W. Bush, former service dog to the late U.S President George H.W. Bush, will be joining the US Navy for his new job at Walter Reed National Military Medical Center in Maryland. The yellow Labrador took a "personalized oath of enlistment" during a live streamed Facebook event Wednesday, as officials from the facility welcomed Sully to be a helpful service to wounded soldiers in time of need. Sully was appointed as hospital corpsman second class and was put in "military uniform," a vest representing the facility's dog squad.
Sully's new responsibilities include reducing stress among patients and improving the well-being of citizens. Named after Chelsey "Sully" Sullenberger, the pilot to land US Airways Flight 1549 safely into the Hudson River after losing all engine power, Sully was assigned to the the late President Bush after the passing of former first lady Barbara Bush. "When we received the request for President Bush, we knew we needed to find a dog that was super adaptable, because the President did a lot of traveling and got a lot of visitors," stated Brad Hibbard, chief program officer of the Guide Dog Foundation for the Blind/America's VetDogs, speaking on how Sully came to Mr.Bush's possession. "We immediately thought of Sully. We knew he was the right dog for the job, especially with Mr. Bush being older and in a wheelchair. He needed a dog that would also help him with daily tasks."
After helping the President make the most of his final months, Sully goes on in remembrance of his late owner by helping those that are in need for the the friendly pooch. Dogs at Walter Reed "work over 200 hours a month and average 2,500 contacts," according to a spokesman for the Medical Center. Jim McGrath, Bush's family spokesman, posted a picture of Sully lying in front of President Bush's casket on social media with only one final statement to sum up the journey they lived together: "Mission complete."
About the Contributor
Jasmeen Rivera, Reporter
Jasmeen is a Senior Creative Writer at the Osceola County School for the Arts. After being on The OCSA Ledger staff for three years, with this one being...