Twisted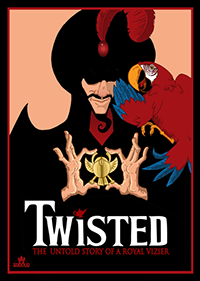 Team Starkid's show "Twisted: the untold story of a royal vizier", is a beautiful and hilarious show. It is a parody of Disney's "Aladdin."
The show starts out with a parody of the song "Belle" from "beauty and the beast." It uses the off beats of the song of the original "Bonjours" as a base and is filled with swear words. It is a very funny opening song and uses typical Disney tropes in its jokes.
During this number, we meet Jafar, (Dylan Saunders) who n this play, is not the villain. Instead, he is the vizier who is only trying to help his kingdom get out of an age of thievery and poorness. But the citizens only see him as the villain and blames him for everything that's wrong, even though it is out of his control.
The show follows Jafar to meet the royal guard who informs him that Prince Achmed, (Joe Walker) was assaulted and humiliated by a thief named Aladdin (Jeff Blim) and they had chased him all over town for a loaf of bread which had resulted in several deaths.
Achmed then appears and yells at Jafar for the princess (Rachel Soglin) setting a tiger upon him and declares war. Jafar then goes to her and she talks about how she wants her freedom.
After that, he finds all his assistants had been killed and in his rage throws furniture around, finding half of a piece of a golden scarab necklace, which his deceased wife had the other half of. We then have a flashback of how they met and then how she was pregnant and then taken away.
He reflects on his past mistakes and then discovers that the princess has left the palace.
In the next scene, the princess and Aladdin are together in his home and he reveals that he is 33 while she is 16. It is obvious that he doesn't love her in the slightest and just wants to sleep with her.
Act one ends with Aladdin getting the lamp from the "cave of wonders" and leaving Jafar without a way to save the kingdom.
The show has a very good plot twist at the end that giving away is a crime. But the songs in this parody are both funny and heart wrenching. It has some adult themes as well as many swear words in regular team Starkid fashion.
"Twisted" is exactly the kind of parody that is good for almost all audiences. It is a perfect parody and even explains the other side of the story told in the Disney classic. It is easily one of the best plays made by the company.
The music was written by A.J Holmes, the lyrics were written by Kaley Machon, and the original book was written by Matt Lang, Nick Lang, Eric Kahn Gale. It is one of the most smartly written shows on YouTube.