Studio C Members Leave to Start JK! Studios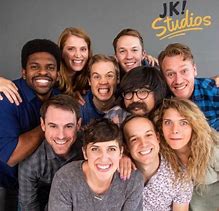 Our favorite original 10 cast members from the YouTube channel/ Tv Show Studio C have now left the BYUtv atmosphere in pursuit of their next major adventure JK! Studios.
After being with Studio C for 9 seasons and bringing us many amazing characters like the amazing goalkeeper Scott Sterling and many others the 10 original cast members all felt that it was time to do something different. From a video they posted on their new YouTube channel JK! Studios they tell us that they wanted to make a family centered comedy hub where they could produce what they wanted when they wanted.
They said it was a scary decision having to leave the security of their jobs but where excited to see what the future would hold and knew that the fans and their passion will eventually come through. They hope to produce not only family friendly sketches, but also full fledged family friendly TV shows, podcast and many other projects down the line for FREE on Youtube. Right now they have two original shows airing on their channel called Freelancers, and Loving Lyfe with many others to come in the following months.
They hope to keep everyone laughing and smiling as well as pursue their own personal goals, and for that we here at the OCSA Ledger wish them the best of luck as artists following their passion.
Make sure to go check out their new channel at JK! Studios if you're looking for some laughs.