"Steel Magnolias" Mainstage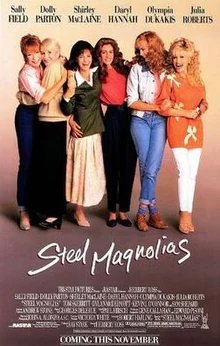 Steel Magnolias, directed by Herbert Ross, is set in a small town, Louisiana where a young beautician gets a job at a beauty salon and is accepted by a tight-nip group of women, where they share a close bond of life and hardships–it's also OCSA's upcoming mainstage production this year. I sat down with the director, Mr.Clegg, Amanda Seymour, who plays lead character Truvy Jones, and Mr.Davis to ask a couple questions about the approaching show.
Curious about why this was chosen as one of OCSA's mainstages this year, Clegg explained that the choice was suitable towards upper class drama majors, particularly the upper class women, to give them a chance in the spotlight and have "shining roles." Clegg also didn't fail to mention his liking towards smaller productions, as "Steel Magnolias" is one of his top favorite plays. "It's funny, it tells about the strength of women, the strength of community, and I like what the show has to say," Clegg states during the interview.
Seymour also goes on to describe the process that her and other cast members go through to ensure a smoothly operated production, saying that "cast bonding" has proven it's effectiveness. Whether the cast is familiar with each other or not, she says that "it's always important to know who you're working with and who you're going to be spending the next couple of months with." This also includes group character work (used in order for everyone to understand each, individual character), blocking, and step-by-step scenes. The cast is currently in their blocking phase. Clegg proceeded to describe the use of "table work," where both music of the time period, colors, and the characters relationships are all thought out for the first two weeks of rehearsals. This makes the blocking process easier to control and plan out. This upcoming week, the cast will begin to dig deeper into each of the characters scene-by-scene.
When creating a production, it's important to recognize not only what is happening on stage, but also what is happening behind the scenes. Mr.Davis revealed to me the secret of how tech and drama work together in this production to push the show along. "In this case, we are trying to create a really realistic interior. Most people, aside from myself and Mr.Clegg who are bald, have been to beauty salons and know what they look like, know what the feel of it is. So, we've got to create something that looks and feels and behaves, because you have to do hair in this. It has to be functional." Davis also unveiled how this achieved realism plays a part in making the actors jobs easier by giving them a "nice, easy place to play in" because it's "all right there."
Steel Magnolia's is considered a smaller production, differing a lot from past mainstages OCSA has composed throughout the years, for example, like "West Side Story." Both being put on opposite ends of the spectrum, as one is more widely-known than the other. Clegg states that, though West Side Story animated the stage with more activity, he considers Steel Magnolia's a much more intimate piece; however, he also confesses that it's also an acting challenge. "We have to fill the stage in a whole different way… of the six women in the show, there is not one small role. So, they really have to be committed to the actual show, to the entire show, to the character. There are no walk on parts. In fact, with the exception of one scene, every actor is in every seen almost from the very beginning." Seymour agreed with this statement, saying that it's almost like "taking a blackbox and putting it on the mainstage." The actors jobs for a play of this size is to now pack the stage with big personalities.
The audience should expect from this production a humorous, moving, and according to Clegg, some of the best acting that OCSA will have ever seen. Compared to James and the Giant Peach and West Side Story, Seymour admits that the audience can also expect a very natural, realistic show, as you look into the real lives of people who go through similar situations every day. In other words, a very relatable show will be put on stage and may even give some of the older audience members a small blast-to-the-past. In fact, even for some of the younger audience members, the show might give them a sense of respect for the characters they will see before them.
The Theater Management class will also be inviting various hair salons in the local area and conduct a hair salon contest. The salons will be asked to promote the show and whatever location has the most clients show up to the school will be offered season tickets to all of OCSA's next year productions. So, if you would like your hair salon to win, don't hesitate to inform them about this creative opportunity.
Steel Magnolias will be on August 25th-27th for $5 for students and $10 for adults. Come to the show and support the arts with this amazing production.