The Mueller Report Takeaways: Mr. Trump, "no person is above the law."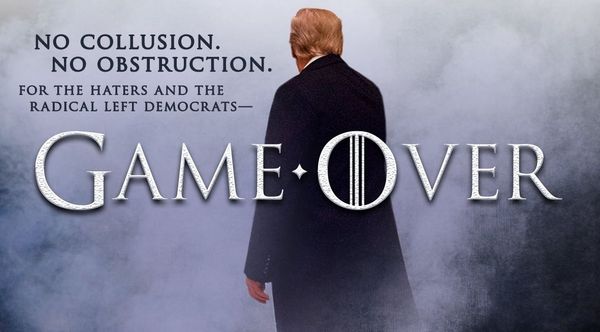 On April 18th, 2019, "The Mueller Report", one of the most anticipated documents in American history, was released to the public. Though heavily redacted, it provided fresh findings from the years-long investigation into then president-elect Donald Trump his 2016 presidential campaign and potential collusion with Russian officials.
President Trump has time and again written off the report and the investigation as a 'witch hunt' and now that the redacted report is in the hands of the American public, he is no less outspoken now than in 2016. The investigation has indicted multiple individuals affiliated with Trump either before or after he reached the Oval Office for their interactions with Russian officials and/or lying to Congress/Mueller's team about said interactions (i.e. George Papadopoulos, Roger Stone, Michael Cohen et al.).
Howbeit, the President has deftly denounced and severed ties with his indicted affiliates and has gone to great lengths to exalt himself. Trump's public responses to the report are divergent to Mueller's findings.
Trump famously stated that the report found "no collusion, no obstruction": this is a lie. Mueller's report disclosed that "while this report does not conclude that the president committed a crime, it also does not exonerate him." President Trump is only a free man because the Special Counsel's office was unable to establish with certainty that the President knew of the collision and obstruction taking place.
President Trump took a distinct interest in WikiLeaks and the release of Hillary Clinton's 3o,ooo deleted emails. The Special Counsel reported that "candidate Trump" not only "stated on July 27, 2016 that he hopes Russia would 'find the 30,000 emails that are missing," but, according to Michael Flynn, former National Security Advisor to President Trump, "made this request repeatedly, and Flynn subsequently contacted multiple people in an effort to obtain the emails."
Trump has taken several measures on multiple occasions in an attempt to obstruct justice, whether that be trying to reign in the Russia probe or get it dropped altogether, or firing subordinates whose responsibility it was to oversee the probe (Michael Comey, former FBI director). However, ultimately, as Andrew Prokop of Vox reports, "Mueller avoids coming to a conclusion on whether any of these individual acts — or the combination of them — qualify as criminal obstruction of justice."
What now? The two year period of awaiting Mueller's findings and possible grounds for impeachment has come to a close. The panorama could be effortlessly written off as wasteful, with the end result being 'inconclusive,' that is, after all, what the Fox News Machine and President Trump's base preserve it as. Though a valid response, it is a misfire in that it omits the numerous indictments the investigation provided.
We must not forget the crown jewel of the report's findings, President Trump's initial reaction to Robert Mueller's appointment to the probe: "Oh my God. This is terrible. This is the end of my Presidency. I'm f***ed."