Congratulations! Three Students from OCSA Celebrate Publication of Anthology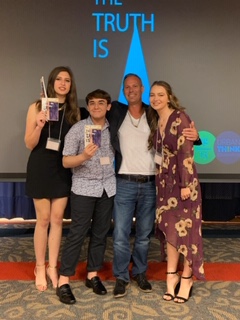 On Friday, April 26th, 2019, the Orlando Public Library was filled with books and authors, for a change. Friday evening, three authors from the Osceola County School for the Arts (OCSA) attended the publication of Page15's "The Truth Is" anthology, which featured them as three of only 15 high school authors.
Mackenzie Riley, a Senior Creative Writer at OCSA and two time featured author of  the Page15 anthology, has stated that although she was initially deterred by the theme of this year's publication, a big inspiration for her poem was "the power that you find in yourself."
Riley was the first artist of the night to perform their piece for the audience. She believes that when it comes to performances, "I always try to go first to start that good impression because I think one, it pushes me to put my best foot forward as a performer, but also makes me feel more secure."
Justin Nazario, Sophomore Creative Writer and first time Page15 author, was elated to be published in the anthology, stating that "to hold a book that… has a poem that I wrote is literally phenomenal… I couldn't ask for anything better." This was felt across the board with each of the authors describing the emotions they felt at the book launch.
Along with being published in the book, each author had a piece of artwork commissioned to go along with their poem or short story. Sophomore Creative Writer, Delaney Lazarus, stated that "it was definitely amazing to see it [the artwork commissioned for her piece] in full print and be able to take it home… I just really love that he [the illustrator] captured every single aspect."
Before the publication came out, the authors had three opportunities to come together and offer edits before their art went to print. The workshops fostered a growing environment for the authors, but the group also convened outside of the writer's room. Due to their selection, the students each received a ticket to see Hamilton, the award winning Broadway musical. On February 9th, 2019, the high school writers went to the Dr. Phillip's Performing Arts Center to see the show.
All in all, this year's publication of the Page15 anthology perfectly represents the insight that these students have and show the talent that they all wield. Congratulations to Delaney, Mackenzie, Justin, and all of the other young writers published for this grand achievement.
About the Writer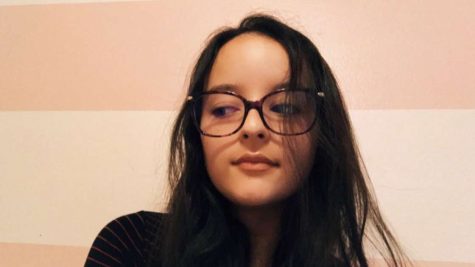 Caroline Centeno, Editor-In-Chief
Editor-In-Chief of The OCSA Ledger, Caroline Centeno hopes to provide the highest quality truth to the OCSA student body. She is a Senior Creative Writer...