Speech and Debate Car Wash Fundraiser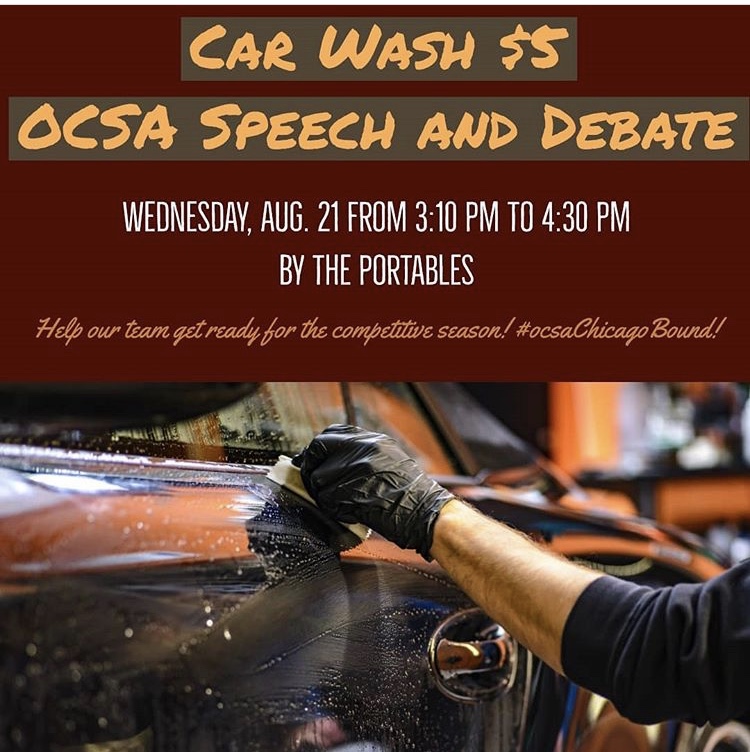 Osceola County School for the Art's Speech and Debate club is hosting a Car Wash fundraiser, after school, on August 21st, 3:10-4:30 PM, and encourages you to come. Apryl Taylor, Speech and Debate sponsor, has a goal of $300 to purchase the champions briefs which is a "resource that we use throughout the year to get evidence for our debates".
Speech and Debate are planning on raising the $300 for the briefs as soon as possible so they can focus on raising money for other expenses for Nationals, which will take place in Chicago this year. Any high student who joins this year will have the opportunity to be a part of the team that will participate in Nationals. Five students in the past two years have participated in Nationals and were the only students in the county to go, thanks to their hard work and the OCSA student body's gracious support and donations. You will have other opportunities to support Speech and Debate throughout the year.
The club is planning on using "Snap raise, which is a platform to reach out to other businesses and people", said Taylor. "Returning students already have a sponsorship form where people can sponsor them and they can pledge to donate five dollars every round through the school year", Taylor says.
Speech and debate also encourages both middle and high schoolers to join their club and be a part of their amazing journey. They will have a booth in the Club Fair from August 29th-30th, where you can find information about how to join.
About the Writer
Emilyanne Richart, Reporter
Emilyanne Richart is a 10th grade  Creative Writer at OCSA. She loves anything that has to do with Marvel, especially the Captain America trilogy. She...