Orlando National College Fair Free and Open to All Students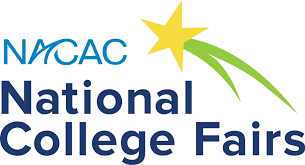 The NACAC National College Fair will be in Orlando on Saturday, October 5th, at the Orange County Convention Center. This is a perfect opportunity for students ready to apply, or preparing to apply, to colleges to be more informed about their options. Mrs. Gill, OCSA's College and Career counselor, provided much needed information about college fair to help advise us on the importance of the event.
"The National College Fair allows students to interact with college admissions representatives from several post-secondary institutions…for FREE!" Mrs.Gill stated. College fair is recommended to any students who have plans after high school, even if they're not quite set in stone yet. When attending the event, you will gain the opportunities and exposure that are beneficial when solidifying decisions when the time comes. Can't make this year's college fair? Don't you worry about it, because there will be multiple occurring throughout the year, such as the Performing Arts College Fair and STEM Fair.
Mrs.Gill also suggests asking yourself various questions before attending:
Do I want a large, medium, or small school?
What major do I wish to study?
Do I want to attend an urban, suburban, or rural school?
Do I want to attend a two-year, four-year, same-sex, or religiously-affiliated school?
Do I want to participate in athletics, clubs, fraternities, sororities, or special programs such as study abroad or cooperative education?
Mrs.Gill also suggests taking the time to think of the questions you would ask the college representatives, in order to be more informed and help sort out all your options. To prepare for the college admissions process, remember to:
Visit schools that are a match or are the closest match to your search criteria. Be adventurous. Don't just talk to well-known schools.
Ask the college representative to scan your bar code. This will allow the representative to follow up with you directly—and quickly.
Ask the same questions to each college representative you visit.
Take notes. Write down what you find most interesting about each college.
Attend an information session to learn more about the college search process, financial aid, and other topics.

Review college websites, catalogs, and books to gather more information and help narrow your choices.
Take a chance. Take an opportunity. You never know what you'll find and what doors might open for you along the way. We hope to see you all at this year's college fair!