Footage Shows Coach Disarming and Then Hugging Student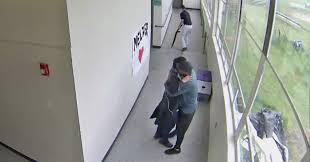 Surveillance video, which was released on Friday from Parkrose High School in Oregon, shows how a football coach disarmed a student carrying a loaded shotgun during an incident in May, then hugged and held on to the then 18-year-old.
The dramatic video, first obtained by KOIN 6 News and released from the Multnomah County District Attorney's Office, shows Keanon Lowe taking the gun from Angel Granados-Diaz and hugging him as another teacher quickly takes the shotgun away in the hallway.  No one was injured.
Lowe, who is also a security guard at the school, told reporters at a press conference at the time that he went to a classroom to get a student, then quickly realized that armed Granados-Diaz was just steps away from him.
"I saw the look in his face, look in his eyes, looked at the gun, realized it was a real gun, and then my instincts just took over," Lowe said. "I lunged for the gun, put two hands on the gun."
He stated that the exchanged happened as other students ran out of the classroom screaming. Students said the armed suspect didn't point the gun at anyone. They all ran out of the classroom's backdoor, moments before Lowe subdued the gunman.
"I felt compassion for the kid, to be honest," Lowe reportedly said. "I had a real-life conversation. Obviously, he broke down and I just wanted to let him know that I was there for him. I told him I was there to save him — I was there for a reason and that this is a life worth living."
Lowe has been praised not just for his brave actions in preventing a shooting in the school, but for his act of compassion toward the student as well.