OCSA Dance Majors Perform at New World
The Osceola County School for the Arts' Senior Dance Class of 2020 had the amazing opportunity to travel to Miami, Florida last week to attend the Florida Young Artist Showcase presented by the Florida Dance Education Organization at New World School of the Arts. The event was a part of the National Dance Education Organization's 2019 National Conference.
Dr. Austin, one of our dance instructors at OCSA, was presented with the Presidential Award for creating and pursuing a vision for the future and service in the National Dance Education Organization.
The dancers who participated were Natalia Collado, Anyah DeGuzman, Mia Escarment, Kiara Garcia, Giavanni Gotay, Khaliyah Ladouceur, Areliss Lopez, Sierra Pena, Immanuel Rodriguez, Brianna Rondon, Rimarie Salgado, Alba Santiago, Drew Shoemaker, Zion Thomas, Fernando Trinidad, and Chloe Walker.
Drew Shoemaker, Senior Dance Major at the OCSA, says "It was an awesome experience. It felt surreal, considering that we were performing at a college. It really put me into a reality check because that's going to be me in the future. It was a wonderful performance and I believe that we could all really sense the energy of one another, which in turn helped us have a successful performance."
According to Drew, the piece was first performed by last year's seniors. "It was not only a challenge for Dr. Austin to replicate dance, but for us to get comfortable in a way of movement that we don't usually identify with. Overall, we were extremely proud of ourselves."
The OCSA dance majors cannot wait to show you guys what's in store for their spring s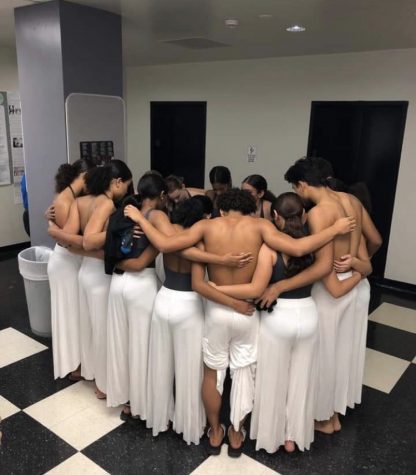 how case in April.