Reports of Gun Violence in Orlando Reignite Gun-Restriction Conversation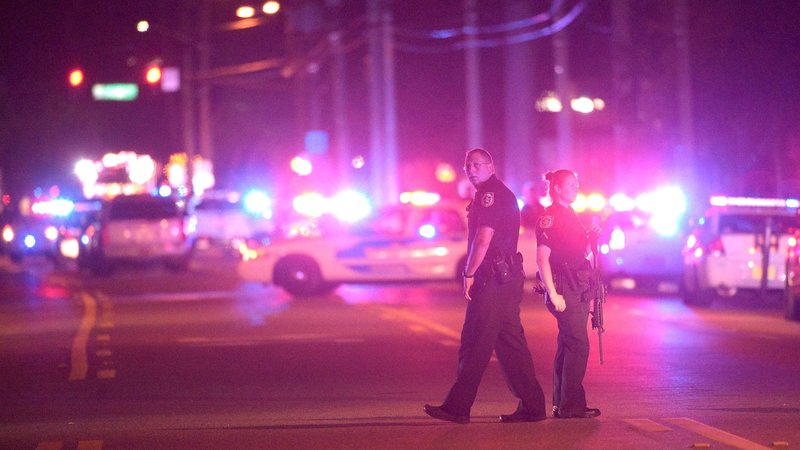 Two men were shot in two separate incidents on Monday in Orlando, Florida. One of the men was killed during one of the shootings. The Orlando Police Department said that they were called to show at the Ambassador Hotel at 8 P.M in the 900 block of West Colonial Drive with the report of gun shots. After surrounding the area for several hours, reports say that they found a man shot in his car. He was taken to Orlando Regional Medical Center where he was later pronounced dead.
The man was identified as 24-year-old Jeff Aldophe the next day, Tuesday afternoon. Investigators were seen gathering evidence from a black BMW at the hotel the same two days.
About an hour earlier before the shooting, authorities later got a report on another shooting that happened on the 3900 block of Columbia street near Zion Baptist Hill. One person was killed and seven injured. One of the victims included an eight-year-old girl and a fifteen-year-old boy. Though the two shootings are not connected, the incidents have raised the conversations of gun violence in Orlando.
The topic in Orlando has been nothing short of controversial ever since the Orlando Pulse shooting that happened back in June 12th, 2016. Omar Manteen, a 29-year-old security guard, killed 49 people and injured 53 others in a mass shooting at "Pulse" nightclub in Orlando. The shooting, at the time, was the biggest mass shooting to occur in American history, until the Las Vegas shooting that occurred on October 1st, 2017, where Stephen Paddock, a gunman on the 32nd floor of Mandalay Bay Resort in Casino, killed 58 concert-goers and injured over 850 replaced Orlando as number one.
Everyone questions what lawmakers plan to do after the horrific patterns of gun violence not only in Florida, but in the country. Democrats are pushing the legislation for stricter gun laws. This includes broadening the red flag law that states that officials and authorities are legally allowed to confiscate guns from those who may threaten themselves, or others. Democrats also want to restrict high-capacity magazines, exposing loopholes that intertwine through gun shows, stricter background checks, and even banning some assault rifles. Florida Senate President Bill Galvano, a Republican from Bradenton, has stated that he plans to use political capital to pass gun legislation laws and states that he also plans to do this in during an election year. He's also urged the committee to consider "review  and better understand the various factors involved in mass shootings." This also includes white nationalism. Galvano states that no options are off the table and everything must be taken into consideration.
"The conversation we are having about gun violence is so important, but it is my sincere hope that we as a country will also give a damn about what is happening in communities of color when it comes to gun violence,'' said Rep. Shevrin Jones, D-West Park, who's concern is also related to the amount of killings that occur in black and colored communities. According to the Tampa Bay Times, about 60% of the shootings that occur in communities of color never make an arrest, leaving the victims and their families as citizens of unfair, credible justice. Jones also makes a side comment relating to Galvano, saying, "Yes, we need to ban assault rifles and increase background checks and strengthen the red flag laws, but Republicans cannot say they are interested in talking about gun violence only in an election year, they have to start talking about it in the off years."
The news also relates back to gun violence as schools as well and what we can do to protect our students, as well, including the students of OCSA. After the school shooting that occurred at Majory Stoneman Douglass High School in Parkland, Florida and witnessing the crime scene, Galvano and Senator Wilton Simpson, R-Trilby collaborated with Democrats to create the first gun restriction laws Florida has seen in centuries. The bill proposes to change the legal age to own a firearm from 18 to 21. It also includes the abandonment of bump stock devices. Bump stocks are gun stocks that help fire arms assist in what is known as "bump firing." Bump firing is the recoil of semi-automatic rifles or double-action revolver to fire ammunition at rapid fire. The bill imposes the state's first "red flag" law. It also allows schools the ability to arm faculty.
However, the attention to gun violence didn't last very long. In the 2019 session, legislators allowed teachers to be added to the administrative personal allowed to carry a firearm on school campus, but passed no gun restrictions. Currently, in light of the shootings that have recently occurred in El Paso and Dayton, Galvano, Simpson, and Senator Tom Lee (R-Thonotosassa) have stated that they are ready to refocus and get back on track on the path to ending gun violence. Galvano's announcement is in hopes to fulfill the promises made to the students of Marjory Stoneman Douglass after they stormed the Senate meeting room a week after the shooting demanding that someone take action into changing gun laws. "We owe it to you to take meaningful action,'' Galvano told the students at the time. "To hear what you have to say and not just let it fall but to let it become a change in the way we do business in Florida."
After visiting the school and observing the aftermath, and blood shed that occurred, Galvano sketched out an outline for passing the first gun laws in Florida in years."
"When I presented the bill on the floor, I told the Senate in the chamber we were just starting the journey,'' Galvano recalled Thursday. "Passing that bill was no longer the conclusion of the challenge we face in society today. We have to be continually vigilant. What's working and what's not working — and we have to make sure what we have done is working effectively."
About the Writer
Jasmeen Rivera, Reporter
Jasmeen is a Senior Creative Writer at the Osceola County School for the Arts. After being on The OCSA Ledger staff for three years, with this one being...