OCSA's Annual Holiday Extravaganza This Friday!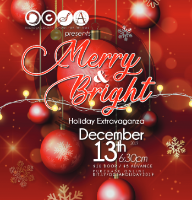 The Osceola County School for the Arts will be presenting their annual "Holiday Extravaganza." Come celebrate the season with an evening of entertainment on December 13th. Admission will be $10 at the door and $5 in advance. Doors open at 6:30.
The concert will be a holiday program brimming with a variety of songs, including sacred and secular music and traditional holiday carols. The two acts will consists of thrilling choruses from our vocal department, a beautiful ballet piece from our dance department, a heart-warming act from our drama department, festive tunes from band and triumphant orchestration from our orchestra. It will feature well known holiday songs from Let it Snow to the delightful Carol of the Bells, a joyful and powerful beginning to your holiday celebrations.
"It is a wonderful performance and a festive occasion. We hope audiences will come out and hear how amazingly talented these kids are," says Mr. Molineaux, Middle School Band Director at OCSA.
After the performance, families will also be able to attend the Holiday Market which is a chain of booths selling an arrangement of food and drinks, and other festive activities. It will be held in the Expo Hall.
Settle into the season and let OCSA bring you a great big bundle of Holiday Cheer! You will not want to miss out on this incredible night!